Welcome to a world of beautiful locations where aesthetics meet functionality and bare plaster walls become a defining feature. At The Location Guys, we specialise in curating exceptional properties for photo shoots and filming. We invite you to explore eight fantastic London locations that showcase bare plaster walls.
Step into Fontaine SW16, where the seamless blend of contemporary design and bare plaster walls creates a visually striking backdrop for your next shoot. The juxtaposition of raw simplicity and modern furnishings will elevate your visuals.
Discover Fern Villa E5, an oasis of creativity nestled amidst the vibrant energy of London. The exposed plaster walls provide a unique canvas for artistic expression, allowing your vision to come to life in an environment that exudes charm and serenity.
Mastershipwrights SE8 is a location where history and modernity converge in perfect harmony. Its bare plaster walls pay homage to the building's heritage while offering a versatile backdrop for any production. Immerse yourself in the captivating aura of this architectural masterpiece.
Bygone House W6 transports you to a bygone era, where the beauty of exposed plaster walls transports your shoot back in time. The grandeur and authenticity of this location create a captivating atmosphere, perfect for period pieces and unique storytelling.
Marmora Road SE22 offers a minimalist sanctuary where unadorned plaster walls become the focal point. Embrace the simplicity and let the interplay of light and shadows add depth to your visuals.
Experience The Den W12, a testament to architectural ingenuity. Its bare plaster walls are a canvas for artistic exploration, inviting you to push boundaries and create truly unique content. Let your imagination run wild in this unconventional space.
Millfields E5 showcases the power of contrast, where the rough texture of bare plaster walls beautifully complements progressive elements. The versatility of this location allows for diverse visual storytelling, from edgy fashion shoots to thought-provoking narratives.
The Old Laundry E5 embodies timeless elegance, where exposed plaster walls whisper tales of the past. Capture the nostalgia and authenticity of this location as it becomes the backdrop for your most enchanting productions.
Join us on this immersive journey through London's top eight location homes with bare plaster walls. At The Location Guys, we understand the importance of finding the perfect setting for your creative vision, and these remarkable properties offer a seamless blend of aesthetics and functionality.
Whether you're a photographer, filmmaker, or creative professional, our curated selection of locations ensures your shoot is set against the backdrop of unadorned beauty. Explore the art of imperfection, embrace minimalism, and unlock the captivating possibilities within London's homes with bare plaster walls.
Bare Plaster Locations
Fontaine
Location: London SW16
A spacious Edwardian semi detached house of 2,400 square feet, situated on the corner of two roads and in a quiet residential area. The property benefits from off street parking for one car, and parking in the road is free of charge. There is a large rear garden, but this is yet to be developed.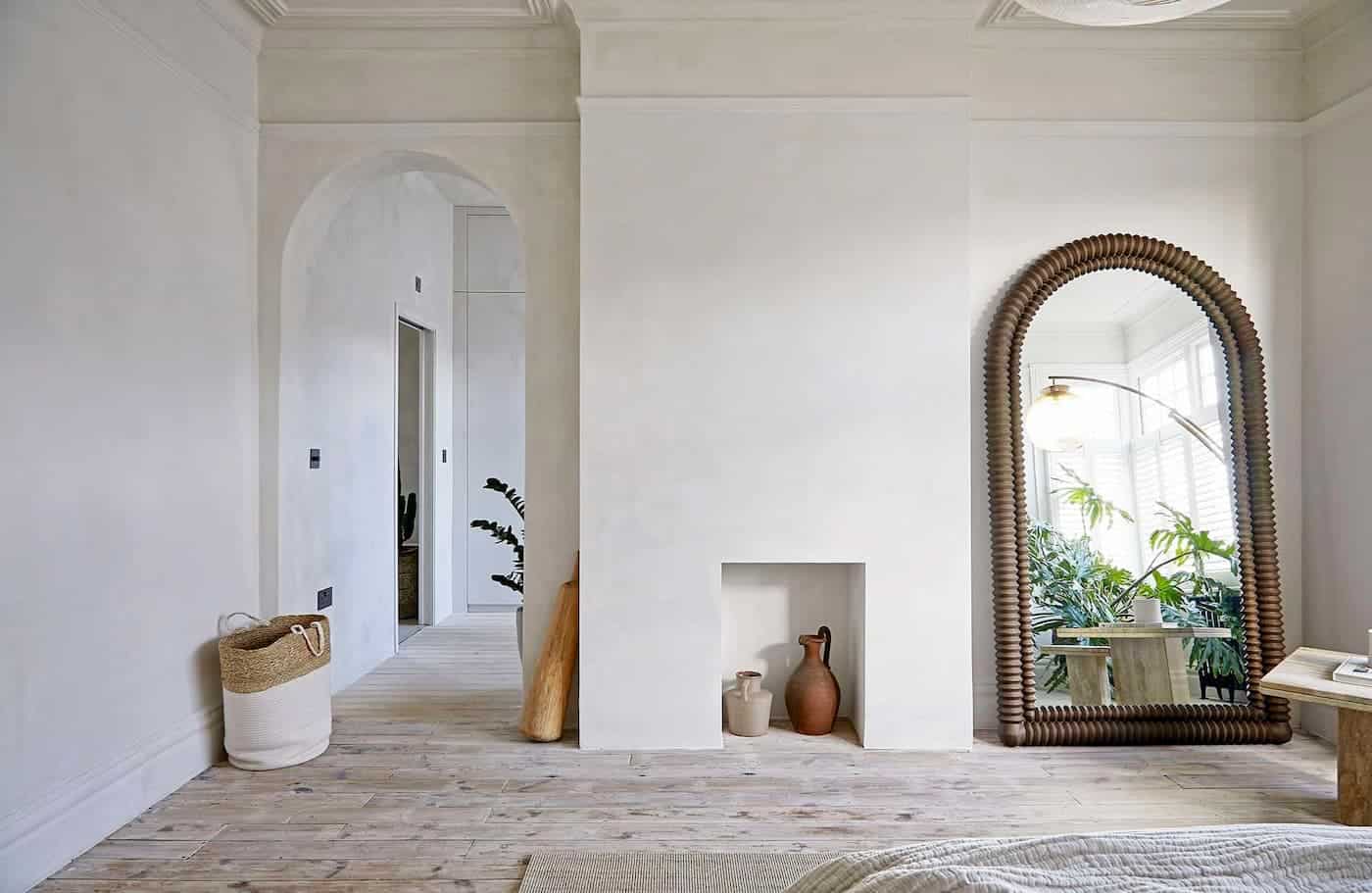 The hall has a stunning tiled floor and lots of original features, including: stained glass, decorative cornicing and plasterwork, high ceilings, a cast iron fireplace and a beautiful wide staircase. The formal sitting room has a stained parquet floor and both the walls and ceiling are painted in a specialist paint. At the back of the house is a large open plan kitchen, living and dining space which has three crittal style French doors out to the rear garden. Off the kitchen is a separate utility room, and the home gym.
Fern Villa
Location: London, E5
An attractive terraced Victorian location townhouse with staircase to the raised ground floor entrance. The entrance opens directly into the sitting room. A through room with two open fireplaces, bleached wood floors, bare plaster walls, bay window to the front and sash window at the rear.
On the basement level is a large open plan living and dining kitchen with separate utility and cloaks, and access to the rear terrace and garden. The kitchen has a large island unit with marble work tops. The floor is polished concrete and the walls ceiling has white painted beams.
Mastershipwrights
Location: London, SE8
Built on the site of an earlier building, the Master Shipwrights location house is a beautiful, historic, Grade II listed property constructed in 1708 and remodelled circa 1804 in the Georgian style. The interiors are being slowly and sympathetically reinstated however appear largely untouched.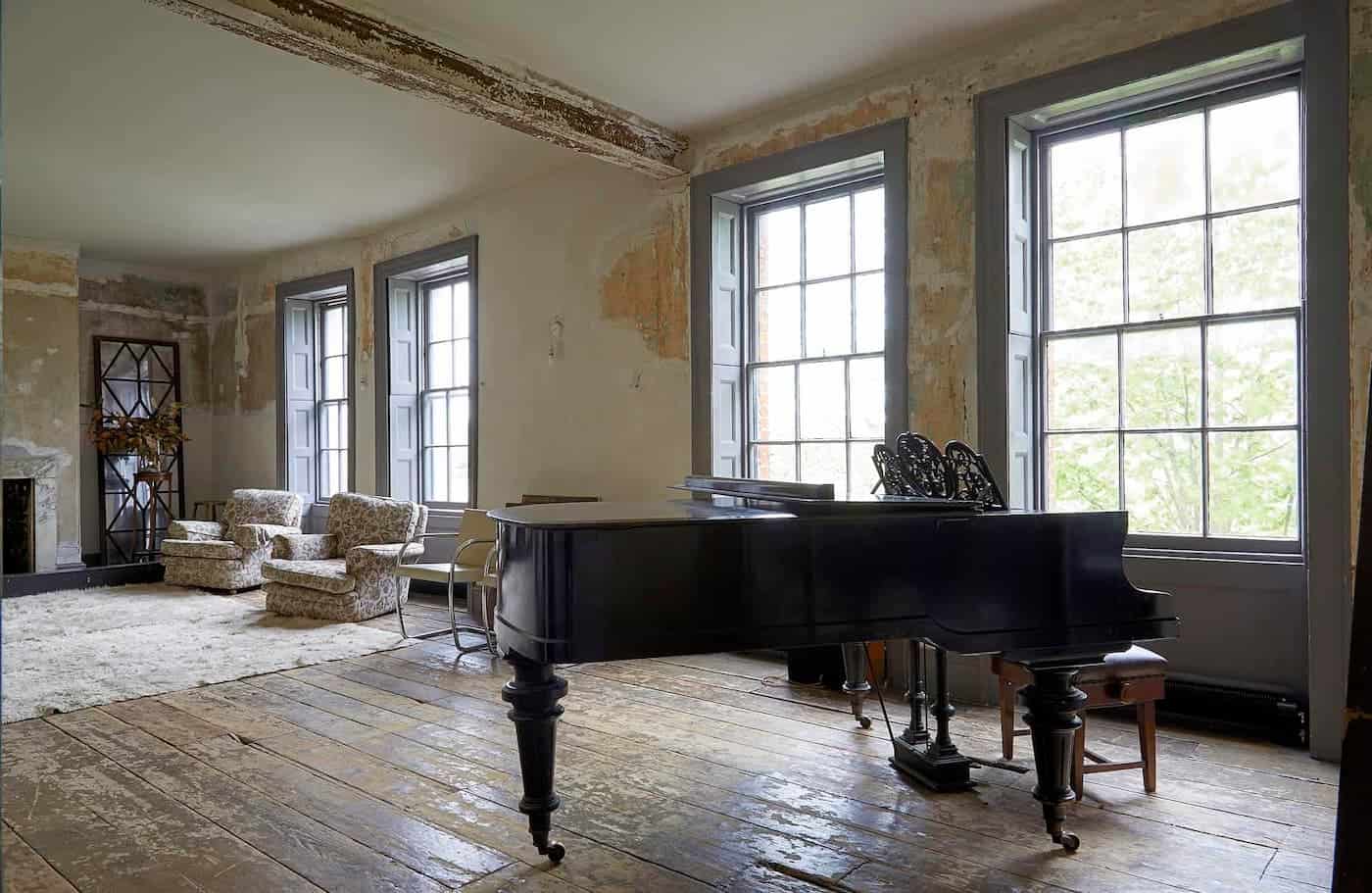 There are two large rooms to the river facing elevation of the property (north), one at ground floor and the second at first floor level. Both rooms feature tall sash windows, exposed wood floors and peeling walls with exposed brickwork in some areas. The third and largest reception room faces East. There are many different areas for shooting both within the property, and around the gardens, and outbuilding. Each space offering a wonderfully romantic backdrop with a strong sense of faded grandeur.
Bygone House
Location: London, W6
Bygone House and Chapel is an extraordinary Grade II listed Georgian property. This location house in London has many different rooms, and is a fine example of romantic, faded grandeur interiors.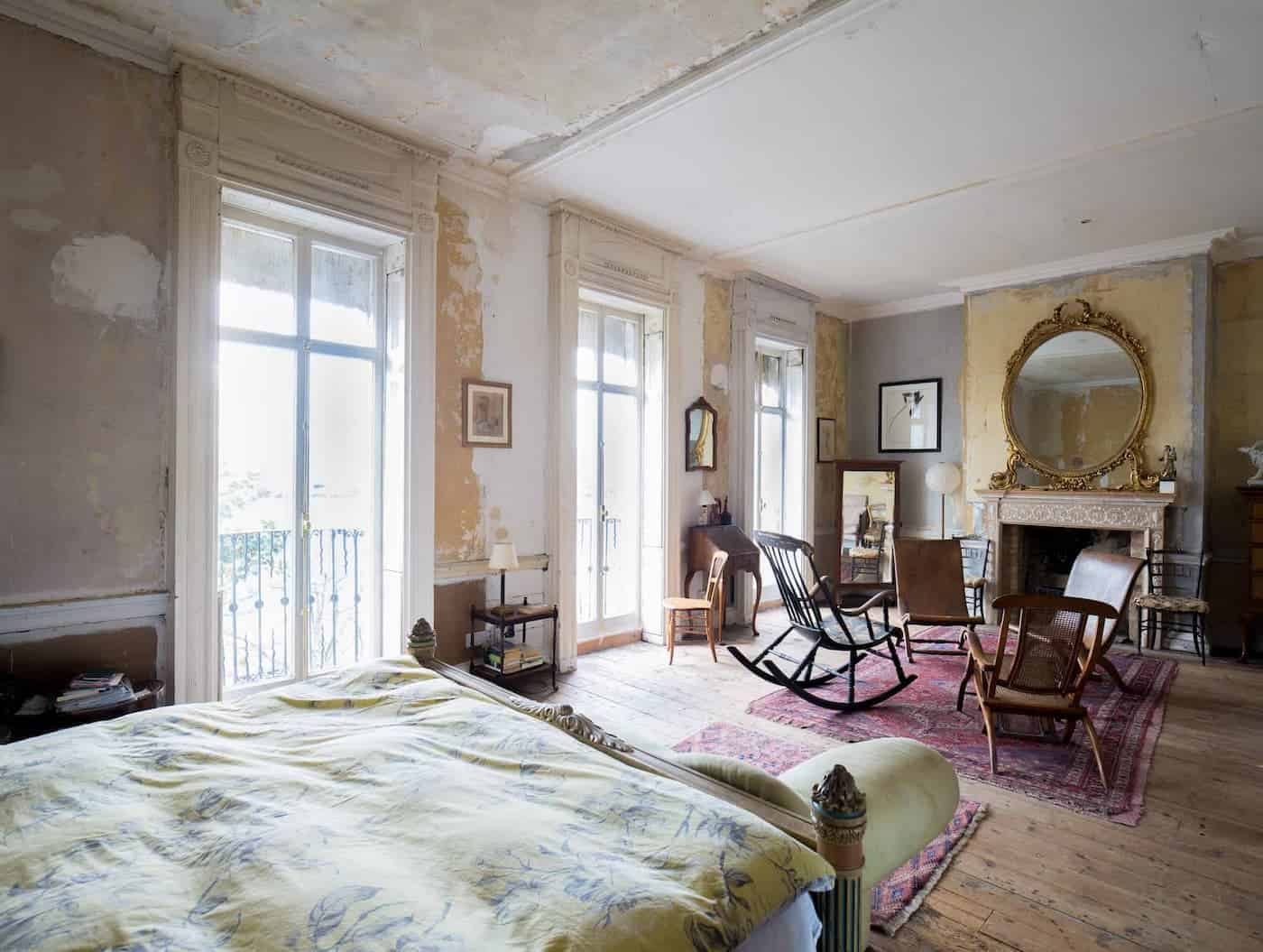 There are a number of reception rooms, each with wood floors, original period features and fabulous high ceilings and tall windows. There are many pieces of antique furniture and contemporary artworks, which help to make this property a very rich, layered backdrop for fashion shoots. There are 11 bedrooms altogether, each of varying sizes and with their own charming features.
Marmora Road
Location: London, SE22
A large Victorian location home with stylish paired back interiors.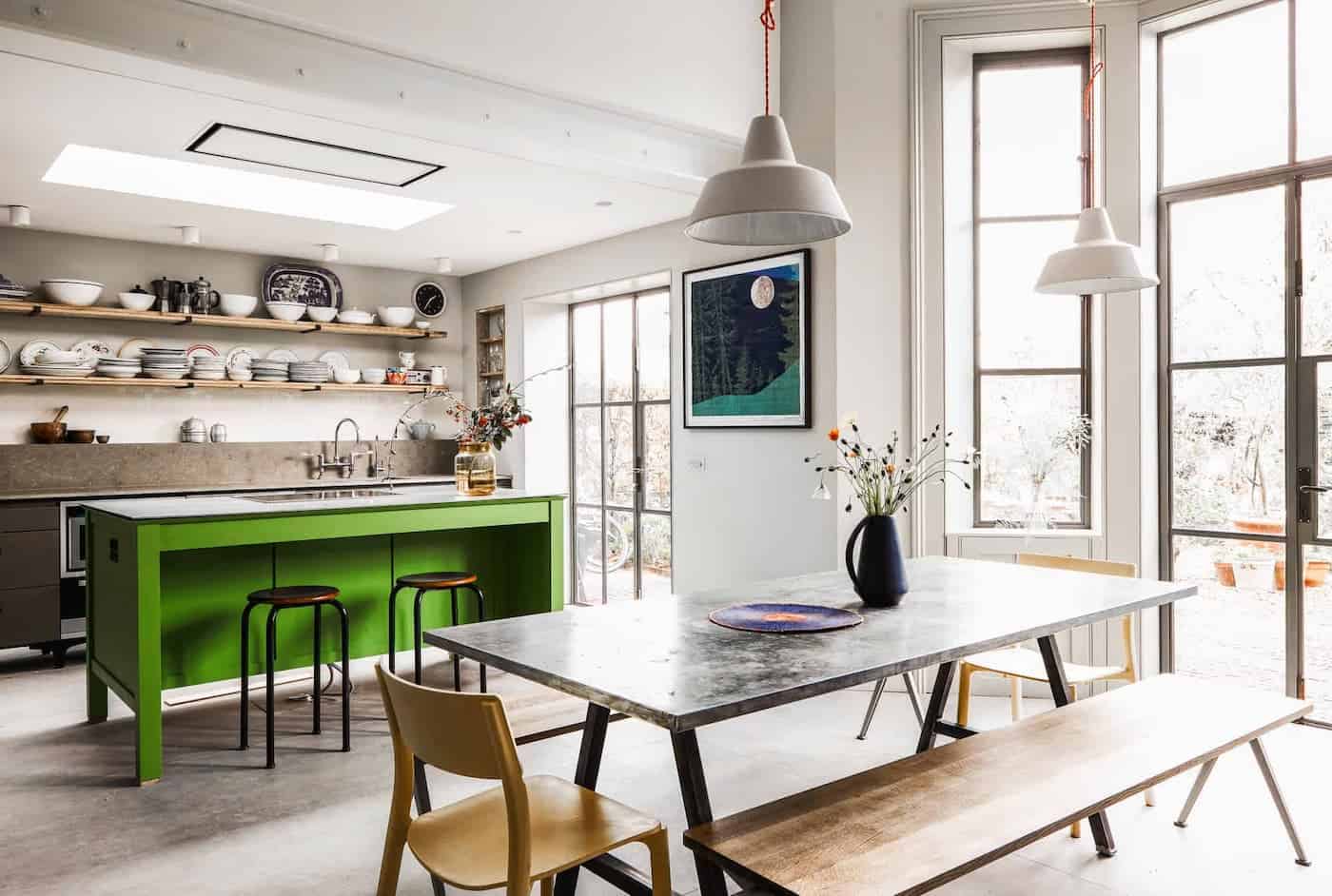 Arranged over four floors, you enter the semi-detached home at a raised ground floor level into a wide entrance hall which features high ceilings, exposed plaster walls and floorboards. A door leads into the formal lounge which has an original marble fireplace with log burner, detailed cornicing and ceiling rose, and a large bay window to the front of the house. Fold flat double doors open into the rear part of the sitting room which has a second fireplace with open fire, and sash window to the rear.
The Den
Location: London, W12
A freestanding studio in the back of a main house garden, with private access and courtyard garden.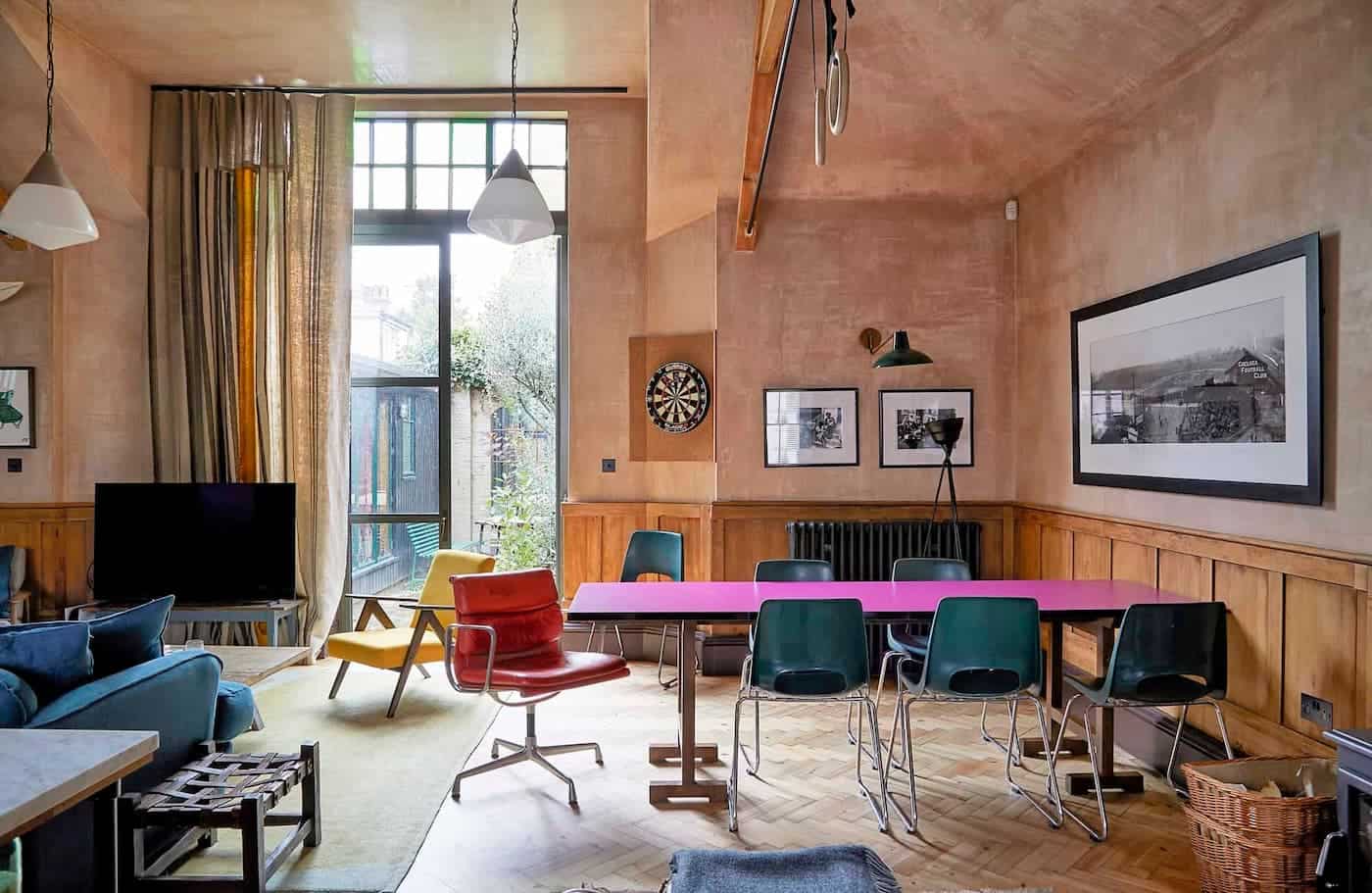 The location property is single level and has large double door access. The main living, kitchen dining space is open plan and boasts a double height vaulted ceiling with exposed beams and bare plaster walls. There are many period features including timber panelling to the lower part of the walls, herringbone parquet flooring and Victorian style cast iron radiators. The kitchen is a focal point painted in a bold yellow – matching the same tone of the smeg fridge, and the marble top island holds a contemporary gas range cooker.
Millfields
Location: London, E5
A former warehouse location turned residential unit with a vast, open, 1,400sq ft living space. A new floor has been laid to provide an attractive and level, wide-plank surface. An ideal space for set build, this location can accommodate a number of different room sets, and the high ceiling offers greater flexibility for lighting.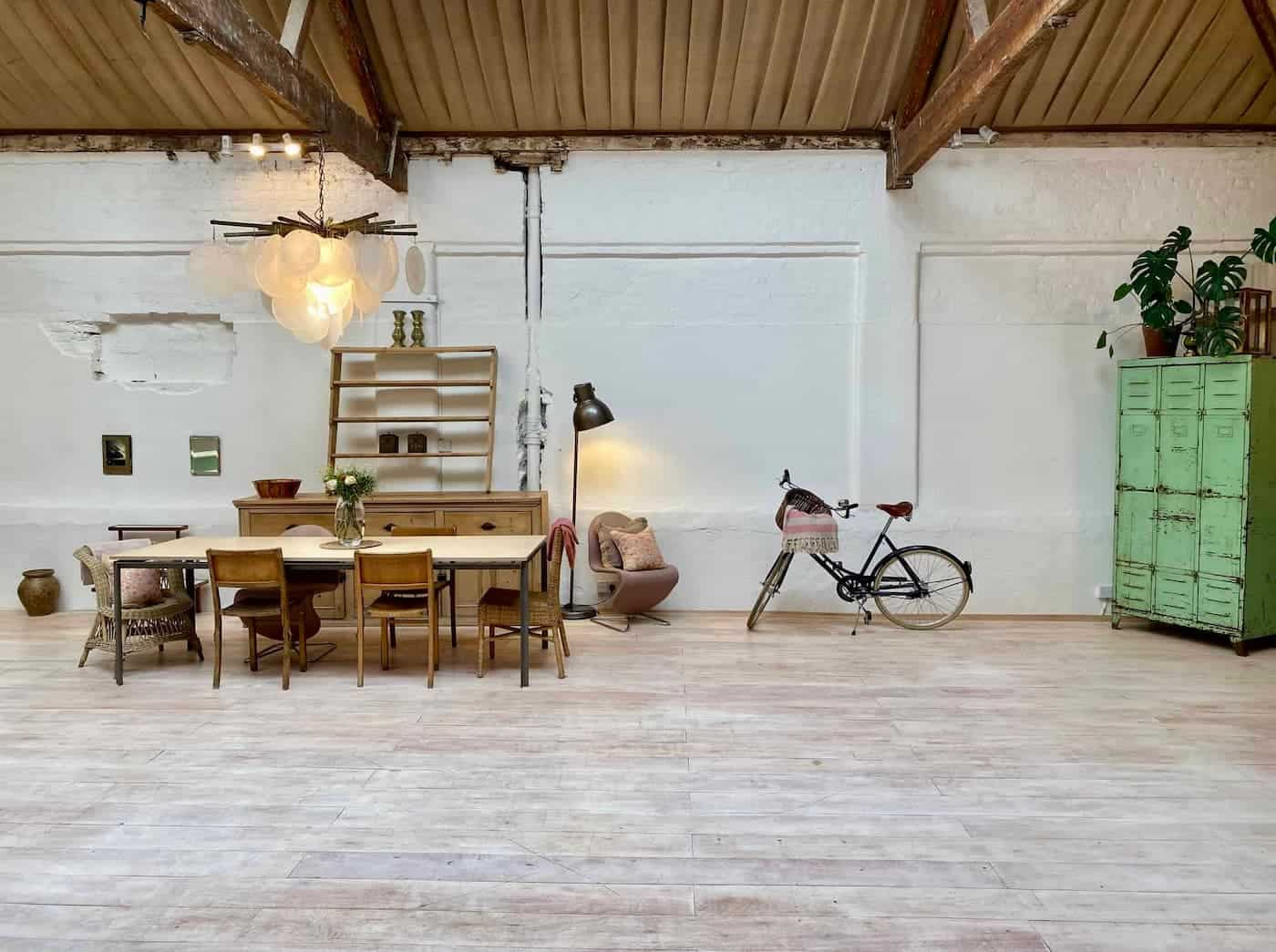 The property has two bedrooms, one on the upper level and the second on the ground floor which makes for an ideal area for wardrobe. There is a separate kitchen, loo and shower room, and access is directly from the road.
The Old Laundry
Location: London, E5
A former Victorian warehouse converted to a residential location property in London, offering open plan living spaces flooded with daylight and retaining a strong industrial theme throughout.
Brimming with quirky props and artefacts and with an abundance of green, this family home offers a unique backdrop for fashion and interiors photoshoots and filming. From the beautiful fireplace, to the soaring ceiling height and natural light, to the original parquet floors, and the iron spiral staircase, the tiki bar, the industrial kitchen, and the entirely wood clad bedroom, this property offers a wealth of useful and interesting features that will bring a photoshoot to life. The main space is also set up with rigging for aerial silks performance.
Related Articles