Welcome to "Lofty Locations: The Latest Loft Locations for Photo Shoots in London" – your go-to guide for discovering the most awe-inspiring loft spaces in the heart of the capital. As London's skyline evolves, so do the opportunities for capturing stunning images in locations that tell a unique story. At The Location Guys, we pride ourselves on staying ahead of the curve, offering a diverse selection of stunning lofts catering to the most imaginative photo shoots.
We showcase five newest additions – from the industrial-chic Hackney Loft in E8 to the elegant Kensington Loft in W8. Each space offers a distinct aesthetic, providing endless possibilities for creating striking visuals. So whether you're searching for an urban oasis, a historical setting, or a contemporary backdrop, our latest loft locations in London will inspire your next photo shoot masterpiece.
Join us as we explore the character and charm of these remarkable spaces, and see for yourself why The Location Guys are your ultimate resource for extraordinary loft locations in London.
London Lofty Locations
Hackney Loft
Location: London, E8
A two-bedroom first-floor apartment located in London Fields, on a quiet street less than 5 minutes from the park. At over 1000 sq ft, the apartment is in a former clothing factory. It has a large bright open, plan living room/kitchen area with five tall windows. The ceiling height is approx. 2 metres. There are two bedrooms and two bathrooms. Access is via a staircase or elevator.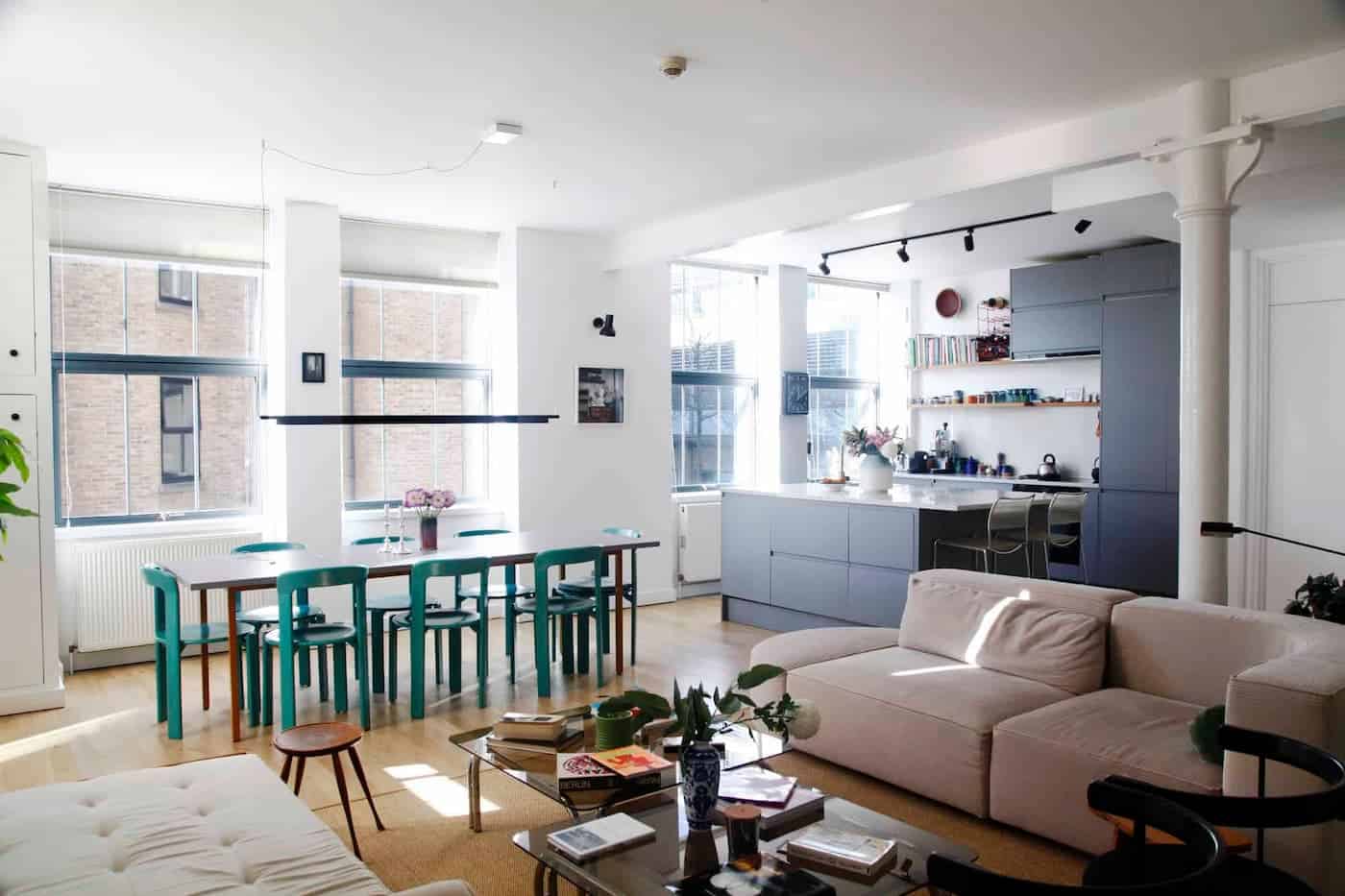 The apartment is furnished throughout with mid-century and contemporary designs, with original pieces from Pierre Paulin, Isamu Noguchi, Giandomenico Belotti, Mueller van Severen, Bruno Rey, Robin Day, Joe Colombo etc.
Harrow Road Loft
Location: London, W9
Harrow Rd Loft is a 4 bedroom, 2 bathroom, loft-style apartment which benefits from off street parking and roof terrace.
A private wide front door opens at ground floor level to an entrance lobby with utility off. An industrial style steel staircase provides access to the first and second floors. At first floor level is a bathroom and bedroom. At the second floor is a further bedroom, plus access to the open plan living space.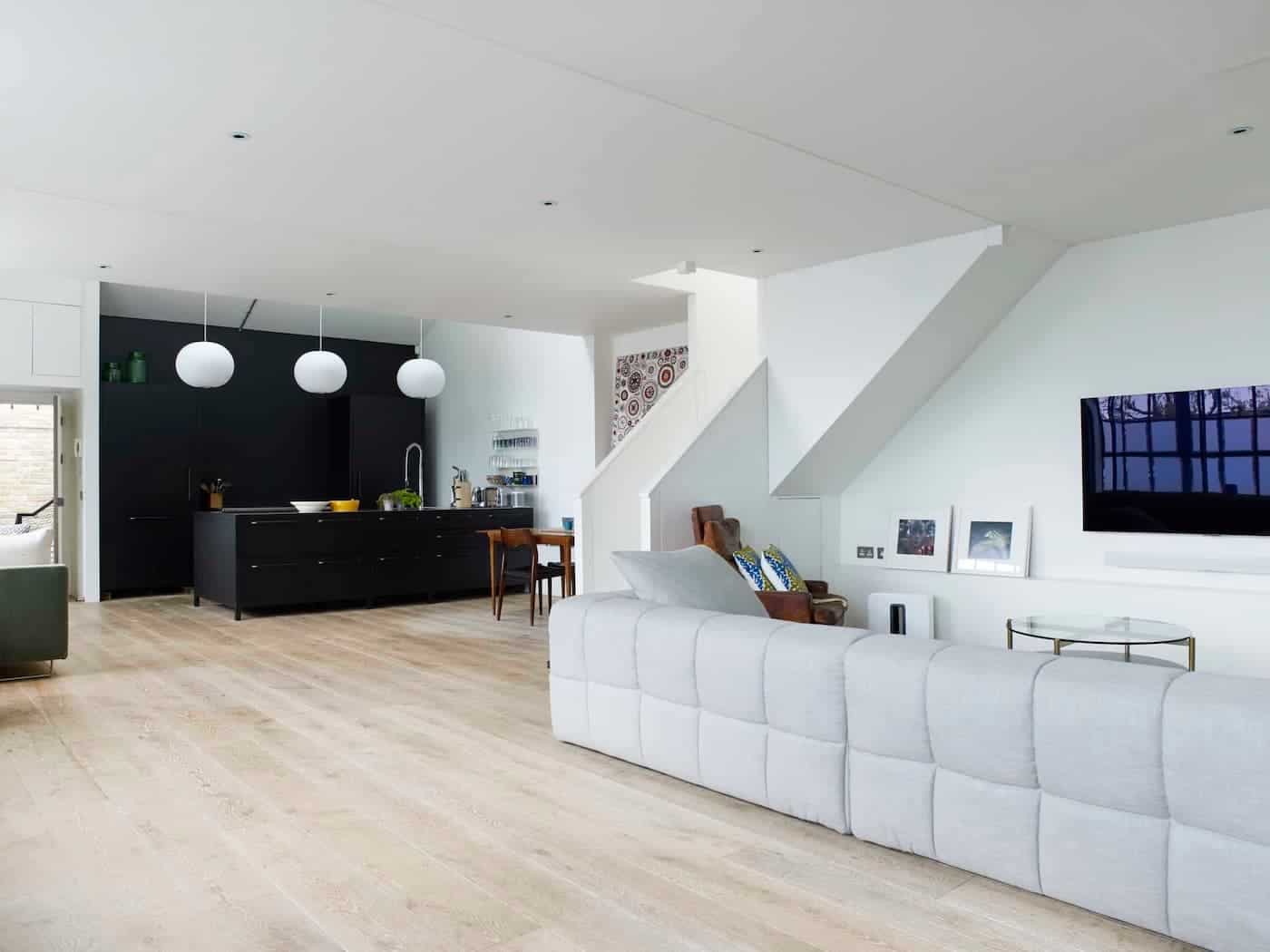 The apartment is approx. 2,500 sq ft, is minimally furnished with contemporary pieces and the main living areas are generously proportioned with large windows and skylights bringing natural light into the space. The open plan kitchen has a light industrial feel with stainless steel countertops and the floors are light oak. There is a third bedroom plus bathroom at the end of the main living space.
Kensington Loft
Location: London, W8
A two bedroom location apartment in London with gallery-like interiors, arranged over three floors and with 2,136sq ft of internal accommodation.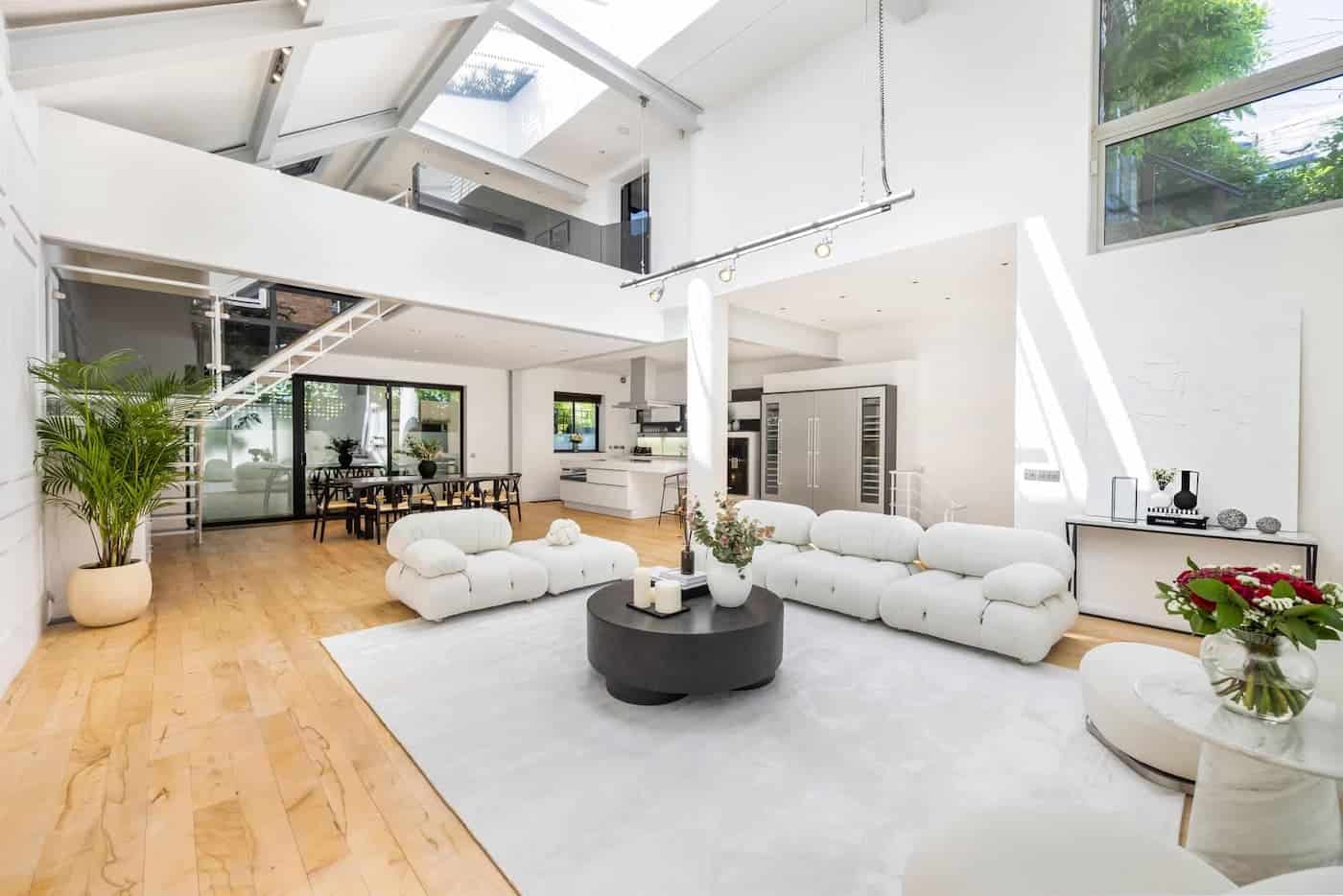 The ground floor comprises of a very large, bright, open plan living space with contemporary kitchen and dining area, plus exposed steel and glass staircase, and galleried area above. With a huge roof light and a beautiful double height arched window, the room is flooded with natural light. There is a light timber floor and the furnishings are minimal and stylish.
Batemans Loft
Location: London, E1
This converted warehouse location in Shoreditch is arranged over three floors and incorporates a private club, large open plan living accommodation, and small rooftop space. On the ground floor is the club. An open plan space with DJ decks, chill out area, plus a sitting area with log burner, and bar.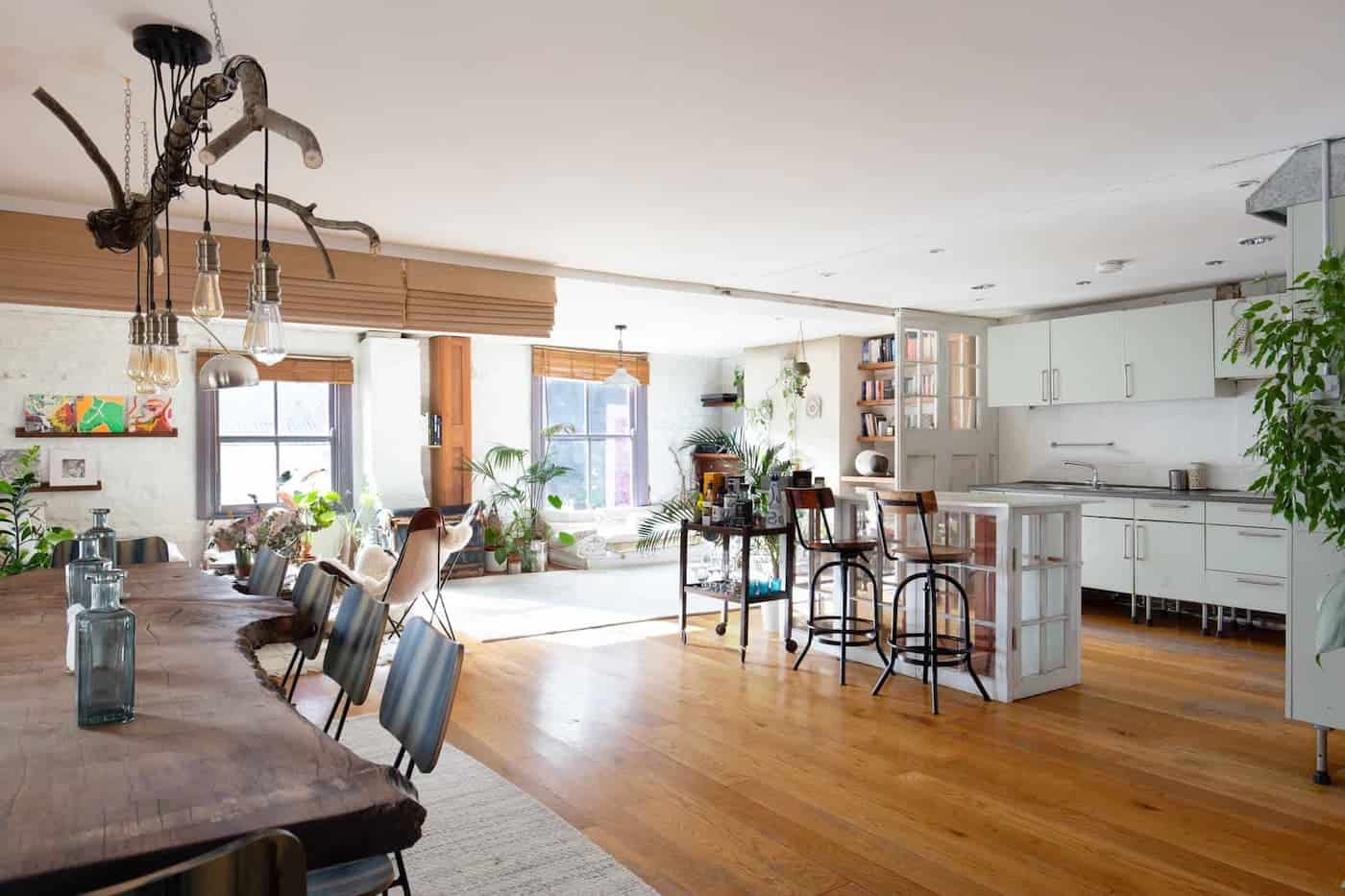 On the first floor is the living accommodation which is one large open plan living room, dining room and kitchen. The space benefits from fantastic natural light, painted brick walls, and sash windows, and has a relaxed boho vibe. On the top floor is the bedroom, bathroom, and a small roof terrace.
Theydon Loft
Location: London, E5
1200 sq ft loft style studio apartment location with 46ft of east facing windows, each 9ft x 6ft. The kitchen has a moveable island unit (on wheels).
A staircase leads to a private bedroom area on the mezzanine level. Access is via staircase or large service lift.
Related Articles