London is one of the greatest cities in the world for street photography, where millions of people call home and joined by millions of visitors every year. Ever since the camera was portable, photographers have tried to capture what makes this city so unique.
London has expanded from a small cultural centre to become a fabulous multicultural working city on the move 24/7, you'll always find something interesting to shoot.
London's Favourite Street Photography Locations
The Barbican
This Barbican is where old London meets the new London. The Barbican is home to many types of cultural events. Constructed during the height of the Brutalist era, it has a great deal of concrete everywhere you look. For many in London, the massive use of concrete construction challenges their personal perceptions of the proper use of space. And yet this is very much the place to be when it comes to photography. Light and shadows form of the all in almost irresistible patterns. In 2001, The Barbican was given official recognition when it was designated with a Grade II status.
Brick Lane
Between Whitechapel and Bethnal Green lies one of the fast growing parts of London. Brick Lane is relatively small in size but it has a strong footprint that extends well beyond the immediate area. This area is home to many Bangladeshi immigrants and it tends to get a lot of local foot traffic. Shop interiors have a lot of colour.
The area extends into Brick Lane Market and The Truman Markets and particularly good area to come on weekends. Weekends tend to bring in street performers and some of the best food trucks in London. There's a fascinating mix of Bengali culture overlaid with a growing hipster vibe.
Brixton
Brixton is one area that has a certain vibrancy that greets you when you first arrive and lingers long afterwards, home to many Caribbean residents. Electric Avenue has a long line of shops that have people inside all day long with interesting characters. This street was the first street in London to get electric street lights in 1880. The road also lent its name to Eddy Grant's 1983 single "Electric Avenue", which reached #2 on both the UK and US singles charts.
You just know this is an amazing street for photography.
The Brixton Village Market is a good idea if you want to try the cuisine and see how people interact during the day. This is one area that has a bit of an untidy feel to it that can make for a really good shoot.
City of London
Don't panic, the City of London is a unique 1.12 sqm mi area dominated by financial centres which means skyscrapers, intersected with medieval architecture. The interesting bit is that on weekends its almost deserted, leaving you a blank canvas for architectural shots.
Covent Garden
Covent Garden is one of the most important areas of modern London. Originally inhabited by the Romans, today it's a space in the heart of London that teems with life. This is where Londoners and their guests go for shopping, entertainment or just a stroll. An interesting mix of people walking through the square, sitting, eating providing great contrasts.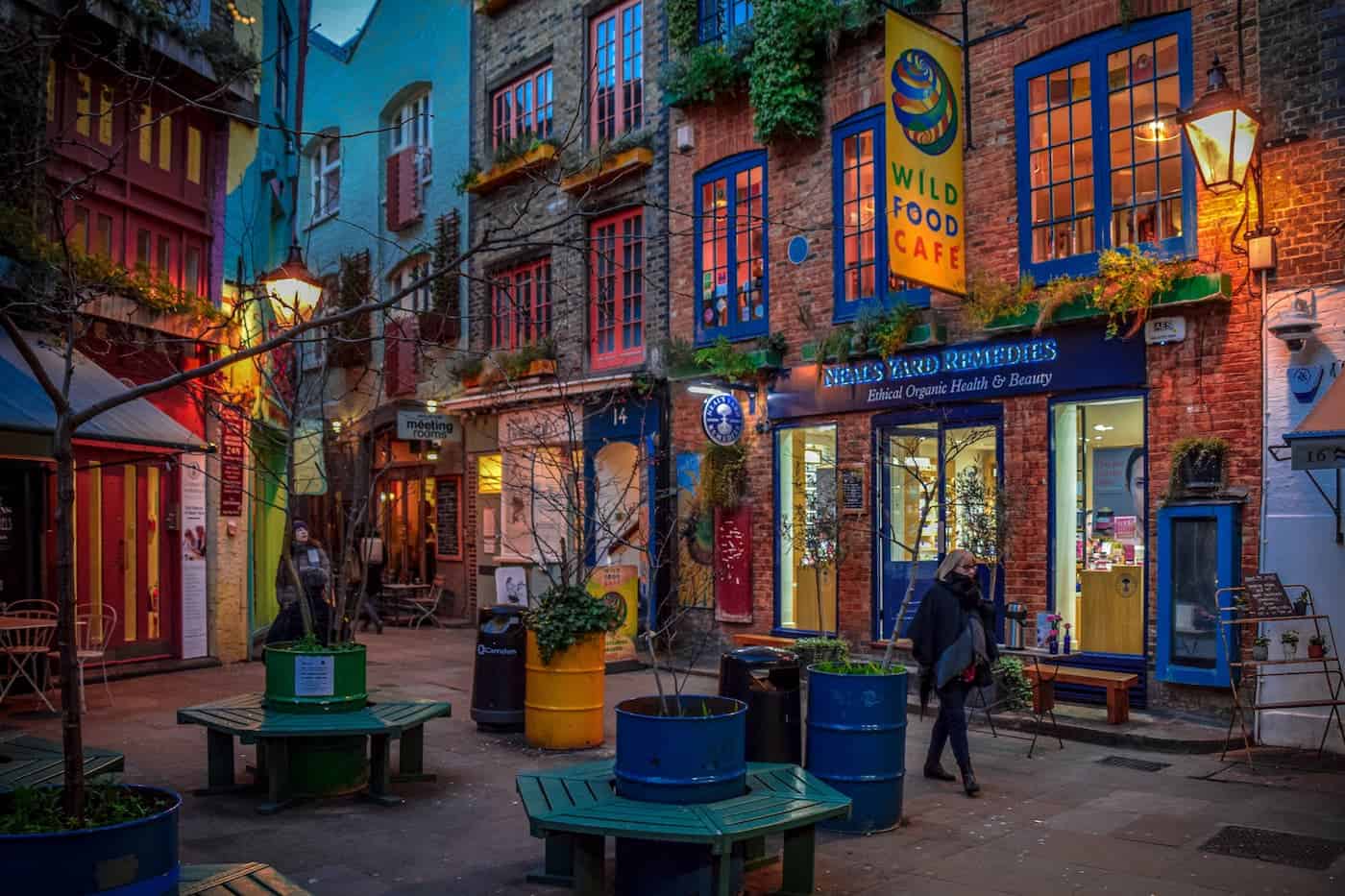 Leicester Square
Dating back to the 1670's, Leicester Square has gone through many periods of change and renewal. The area is largely devoted to the world of theatre and screen. During the Chinese New Year, the square also serves as a celebration and gathering place for nearby Chinatown. Live events are common and street artists make it an interesting scene.
London Bridge
One of the single most iconic parts of London, the bridge is London (not tower bridge) and has a lot of pedestrian traffic. Borough Market is right nearby and one of the largest markets in London.
Oxford Street
Oxford street is probably the best known shopping street in London. If you are looking for colour and movement, this is your street. This street is actually one of the busiest in all of London when it comes to daily foot traffic. Smaller streets like Regent Street also have their own unique characters.
Shoreditch
Shoreditch has a long history as a part of London near the periphery. Lying just to the north of the city of London, Shoreditch has an arty feel to it with street murals and a bit more of a grittier feel, this a community on the move.
South Bank
South Bank is the ideal place to reconnect with the Thames. This is an ideal location for river meets city shots. South Bank is a dynamic area at the heart of London's cultural scene. The Southbank Centre, National Theatre, restaurants and historic pubs, and is the site of frequent fairs and events.
Trafalgar Square
Located in the very heart of London and it remains one of the most visited parts of London and one of the most well known. It provides a range of interesting features and faces against an iconic backdrop.
Need Your Own Shoot Location?
The Location Guys represent locations in London and throughout the UK for use in photography and film. Heavily weighted towards private residential location property in London, we also represent a select number of commercial and industrial locations, as well as photography studios in London.
Related Articles