East London offers an eclectic mix of old and new, traditional and contemporary location houses. The dynamic visual landscape of East London provides a wealth of inspiration, setting the stage for remarkable stories waiting to be captured. Here at The Location Guys, we understand the magic of the right location. And now, we are excited to introduce our collection of new location homes in East London, all primed and ready for your next photo shoot or filming project.
Each of our East London homes offers a unique ambience, from the time-honoured charm of Georgian townhouses to the industrial chic of converted warehouses, reflecting the diverse spirit of the area. These spaces are more than mere locations; they are catalysts for creativity, the canvas to your masterstroke, and the stage for your narrative.
Whether you're a professional on the hunt for your next exceptional backdrop, or an emerging talent aiming to make your mark in the creative world, our East London location homes offer a range of dynamic settings that align with various creative needs.
East London Shoot Locations
Bunker
Location: East London, E12
An incredible concrete basement renovation location by Space Group Architects.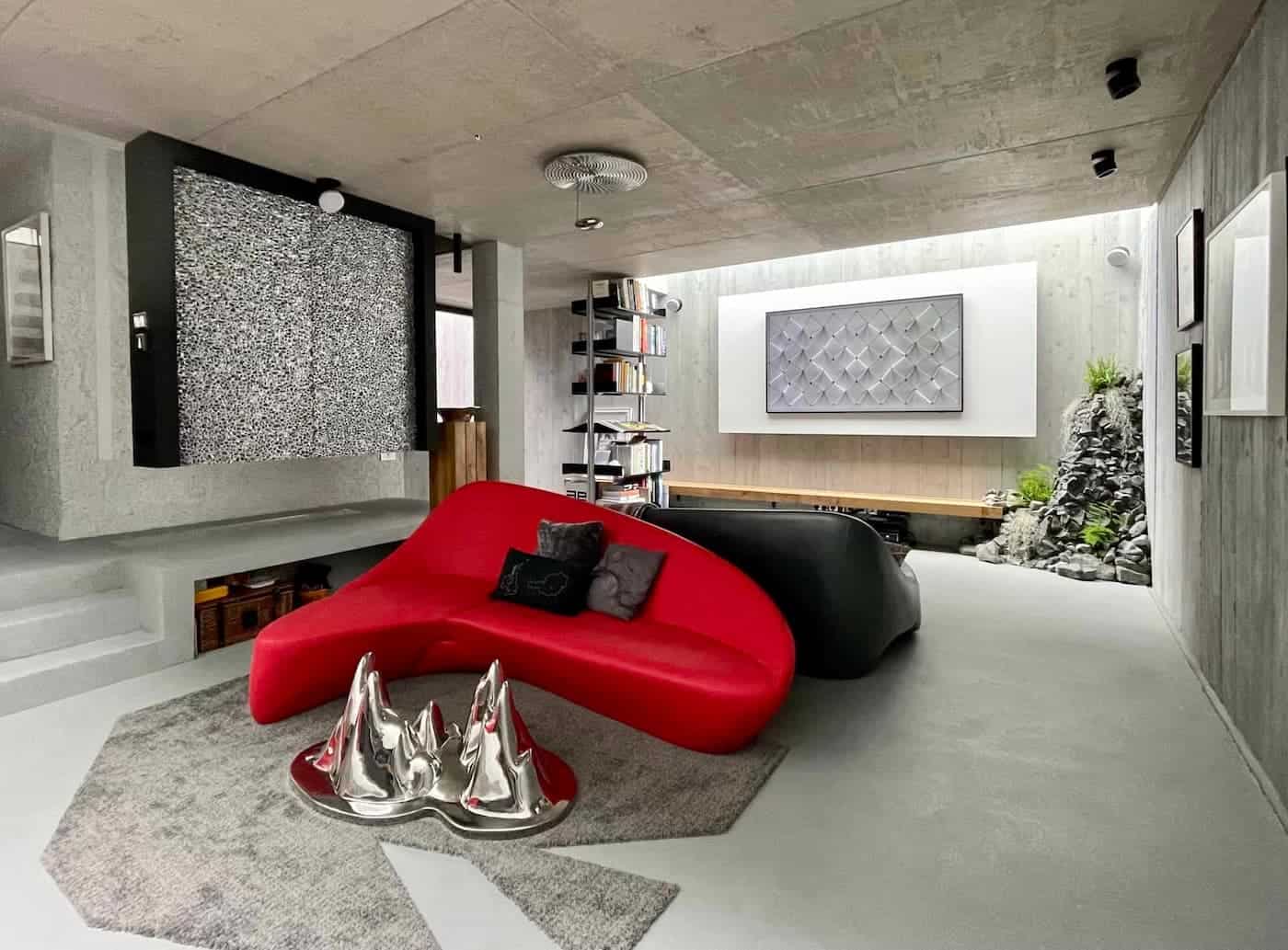 A large living space opens to a sunken courtyard and overhead skylights flood the space with natural light. Filled with unique and contemporary furnishings, the space has a futuristic feel, and a small gym is clad in a lattice of mirrors with integrated lighting.
Highams Park
Location: East London, E4
A four-bedroom semi-detached Edwardian home in Highams Park, East London, with paired back, light-filled interiors and antique and vintage furnishings.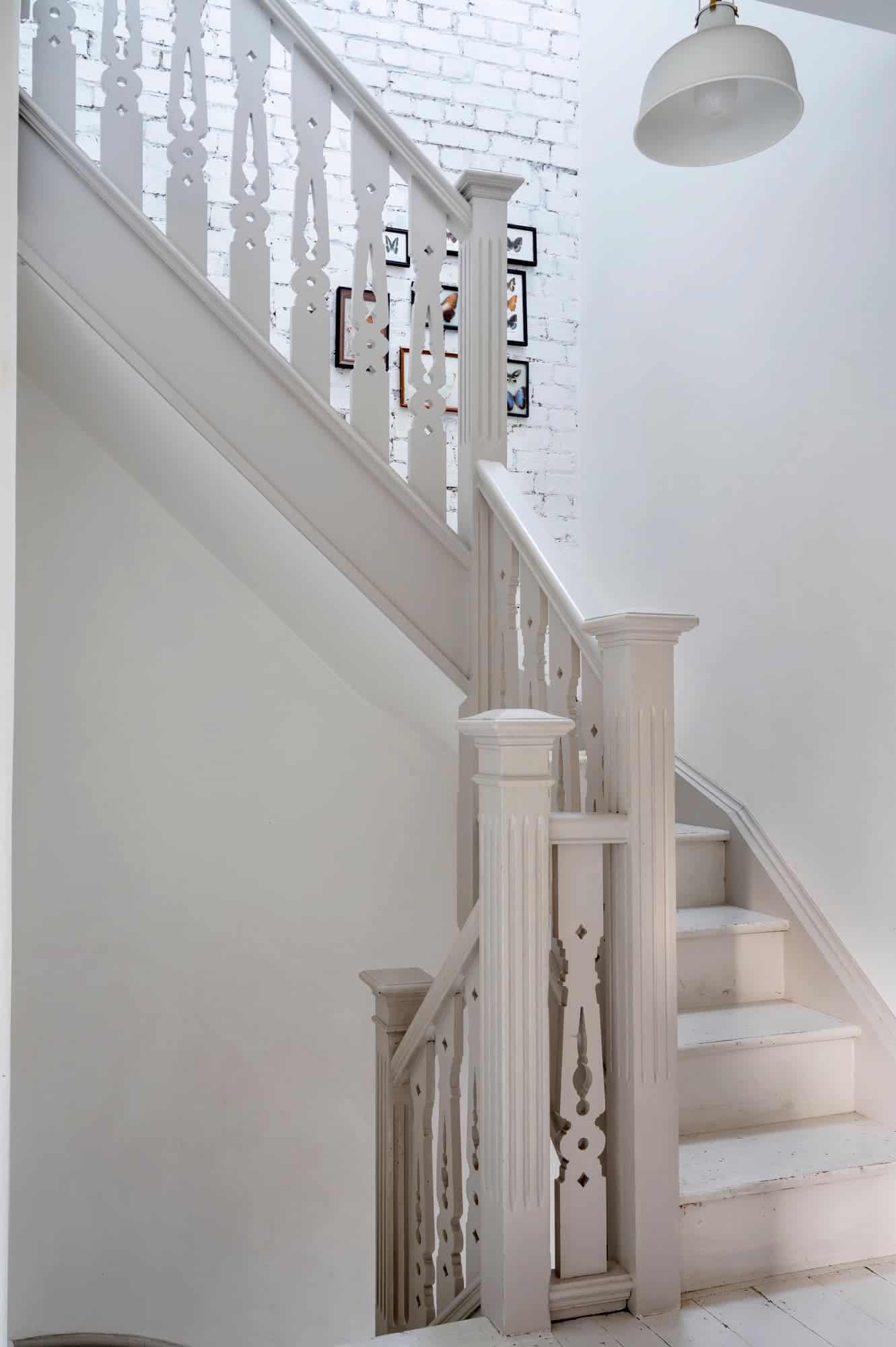 The ground floor has whitewashed floorboards throughout and the entrance hall features a hand pained checkerboard design. There is a sitting room to the front with square bay and the walls are finished in a fine panel detail. A wide opening leads to the open plan kitchen diner at the rear. The kitchen has a 3m long island with quartz countertop. Large skylights above bring in plenty of natural light and full width bi-fold doors open out to the garden.
Citrine
Location: East London, E17
The property is a Victorian terraced location house in East London boasting colour blocked walls, mid-century furniture and striking art. Black and white tiled floors lead into a large industrial kitchen, featuring an exposed brick wall, yellow rubber flooring and a copper pipe light installation. Crittall doors lead out to the garden.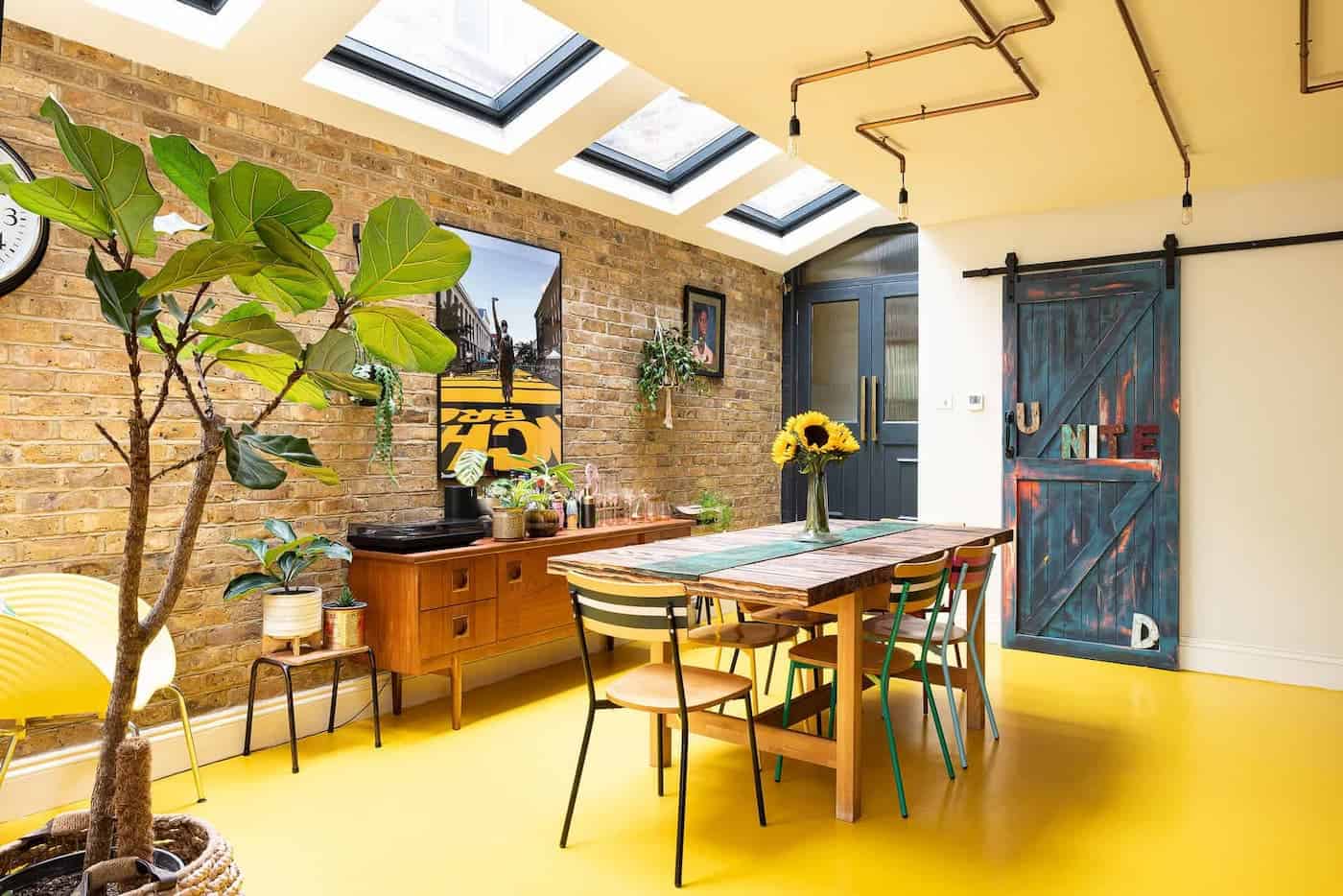 The living room has colour blocked walls, and regal gold coving which decorates the ceiling. The living room doors open up into the open-plan kitchen/dining area. A quirky toilet can also be found on the ground floor. The hallway is playful with art on the walls, and an aubergine polka dot runner lines the stairs leading to the upper floor. This floor has two bedrooms and a 70s inspired olive green bathroom decorated with planters and bamboo.
Hackney Loft
Location: East London, E8
A two bedroom first floor apartment location in London Fields, on a quiet street less than 5 minutes from the park.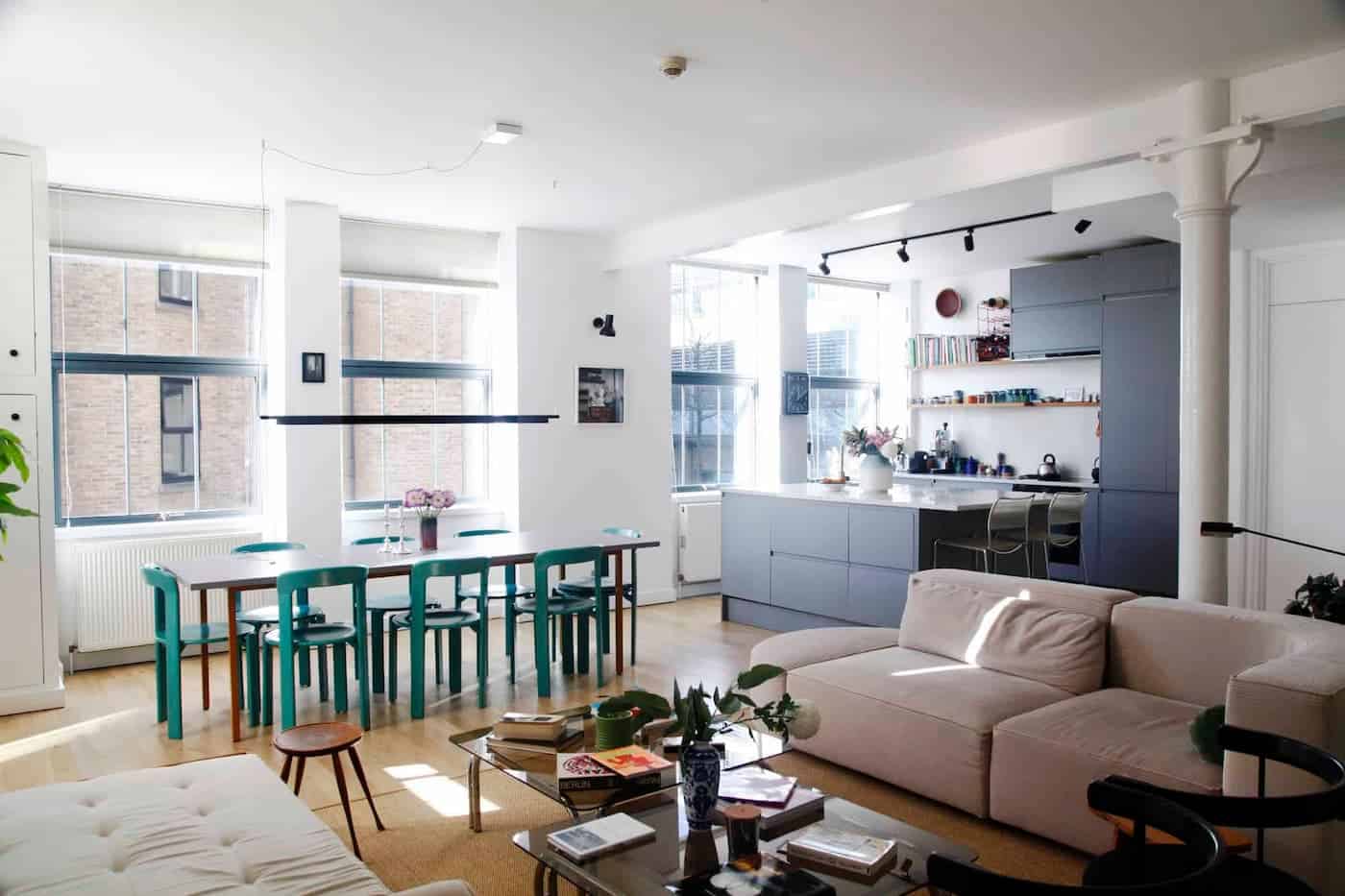 At over 1000 sq ft, the apartment is in a former clothing factory. It has a large bright open plan living room/kitchen area with five tall windows. The ceiling height is approx. 2 metres. There are two bedrooms and two bathrooms. Access is via staircase or elevator.
Blush
Location: East London, E5
This Victorian location townhouse in London is arranged over four floors, with glass box extension, modernised interiors and a good sized landscaped rear garden.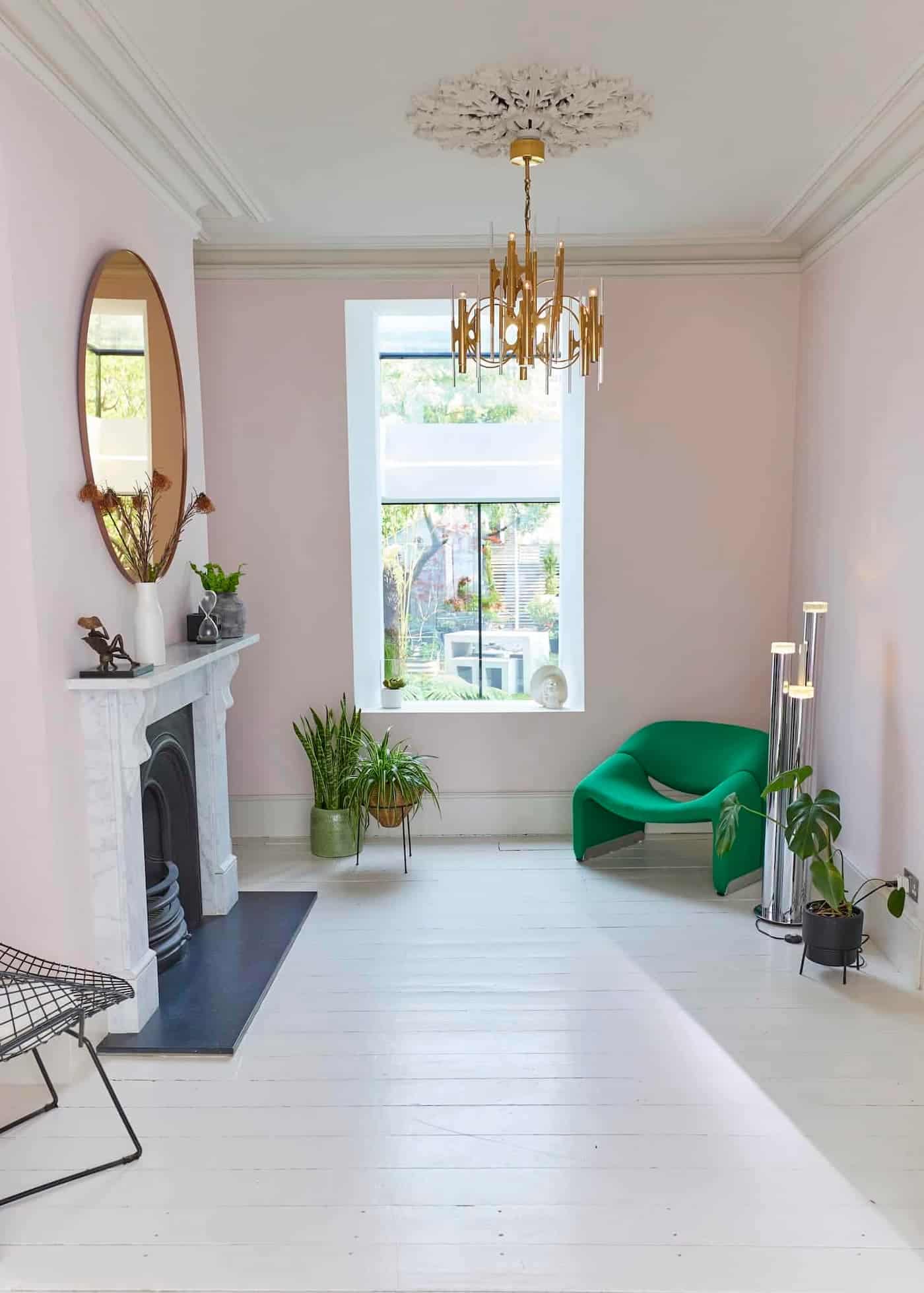 A stone staircase leads to the raised ground floor. The floorboards are painted white and the walls are Calamine by F&B. Interiors are styled with minimal mid-century pieces, and lighting is Sciolari. The through lounge has an opening at the rear which looks into the newly added double height extension.
Maple House
Location: East London, E17
A five bedroom, semi-detached period location home in Walthamstow with large landscaped rear garden. The house has generous proportions, is well decorated throughout, and offers a beautiful backdrop for photography and filming.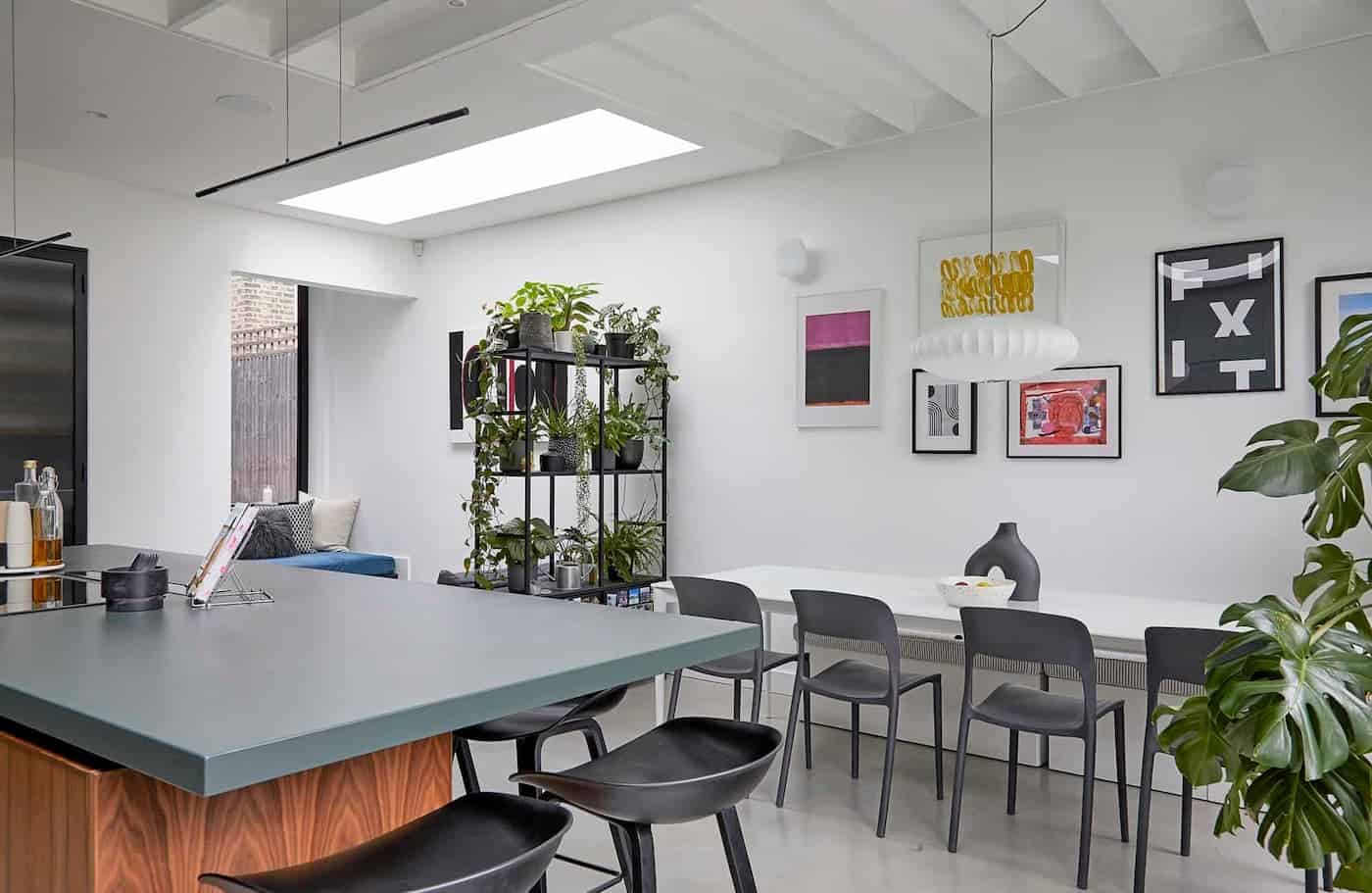 The ground floor comprises entrance hall with an original Minton tiled floor and painted staircase. The large double reception room is decorated in warm neutral tones, has panelling details to the walls and an open fire to the sitting room and square bay window. There are pops of colour added with contemporary artwork and a grand piano sits in the rear part of the room.
Phoenix House
Location: East London, E17
Showcasing an eclectic mix of design influences from Art Déco, Mid Century, Bauhaus and Victorian, this arresting location property situated in East London offsets the ultimate in timeless design. With the warm toned Acacia parquet flooring throughout the downstairs, wooden panelling and shutters in the lounge, the overall look is rich with character. The front of the property is north facing so ideal for filming and stills. The shutters creating a black out space that can be easily controlled with lighting.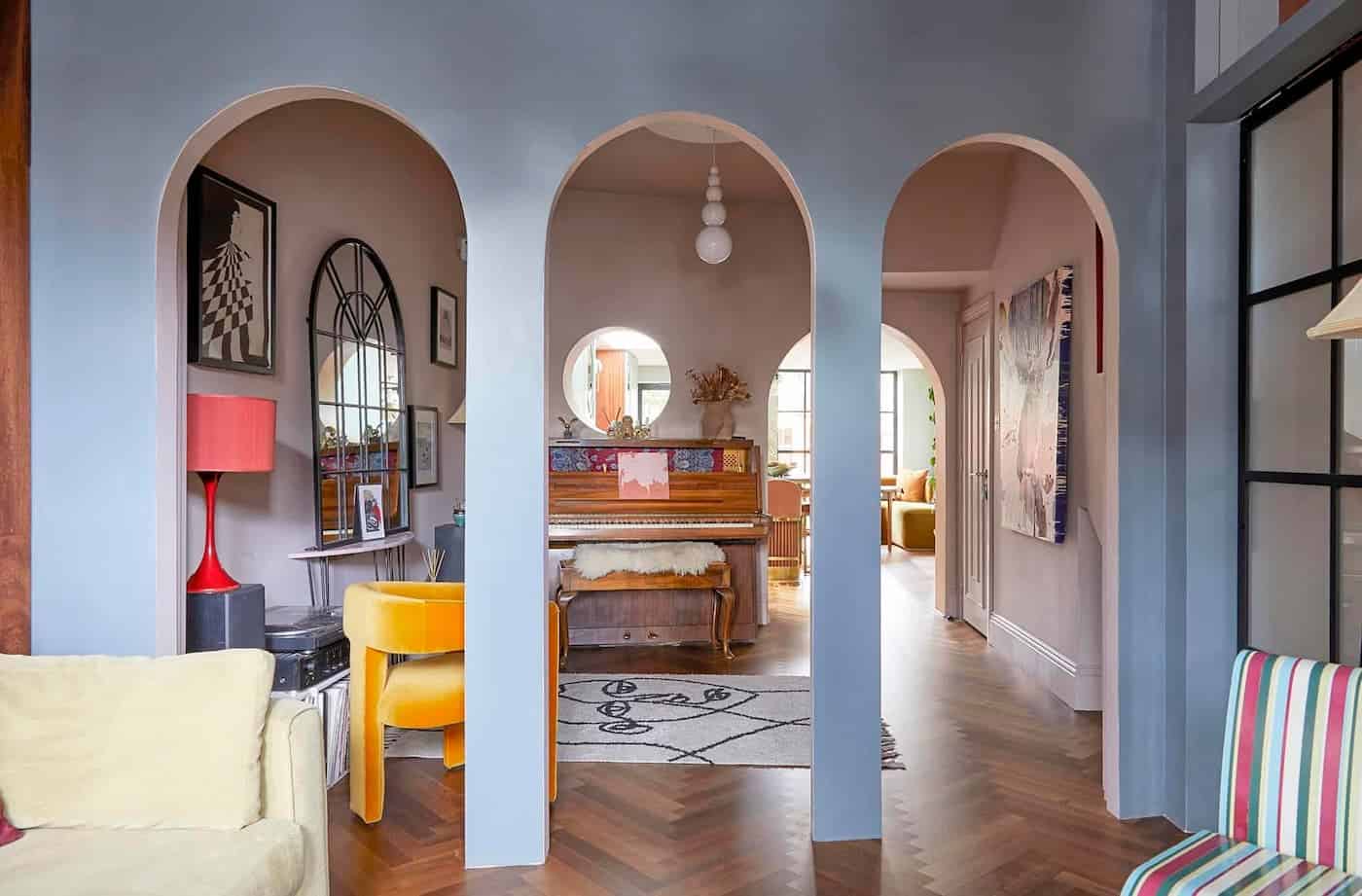 The parquet flooring adds a sophisticated appeal to the space and works beautifully next to the memphis-style arches and statement furniture pieces – providing the perfect mix of old and new. An open plan layout downstairs, array of colours/finishes and wallpaper used within the property makes for a versatile shooting space. Throughout the property there are lots of stylish furniture, rugs, ornaments, lamps, trinkets and plants that can be used for set design.
Batemans Loft
Location: East London, E1
This converted warehouse location in Shoreditch is arranged over three floors and incorporates a private club, large open plan living accommodation, and small rooftop space. On the ground floor is the club. An open plan space with DJ decks, chill out area, plus a sitting area with log burner, and bar.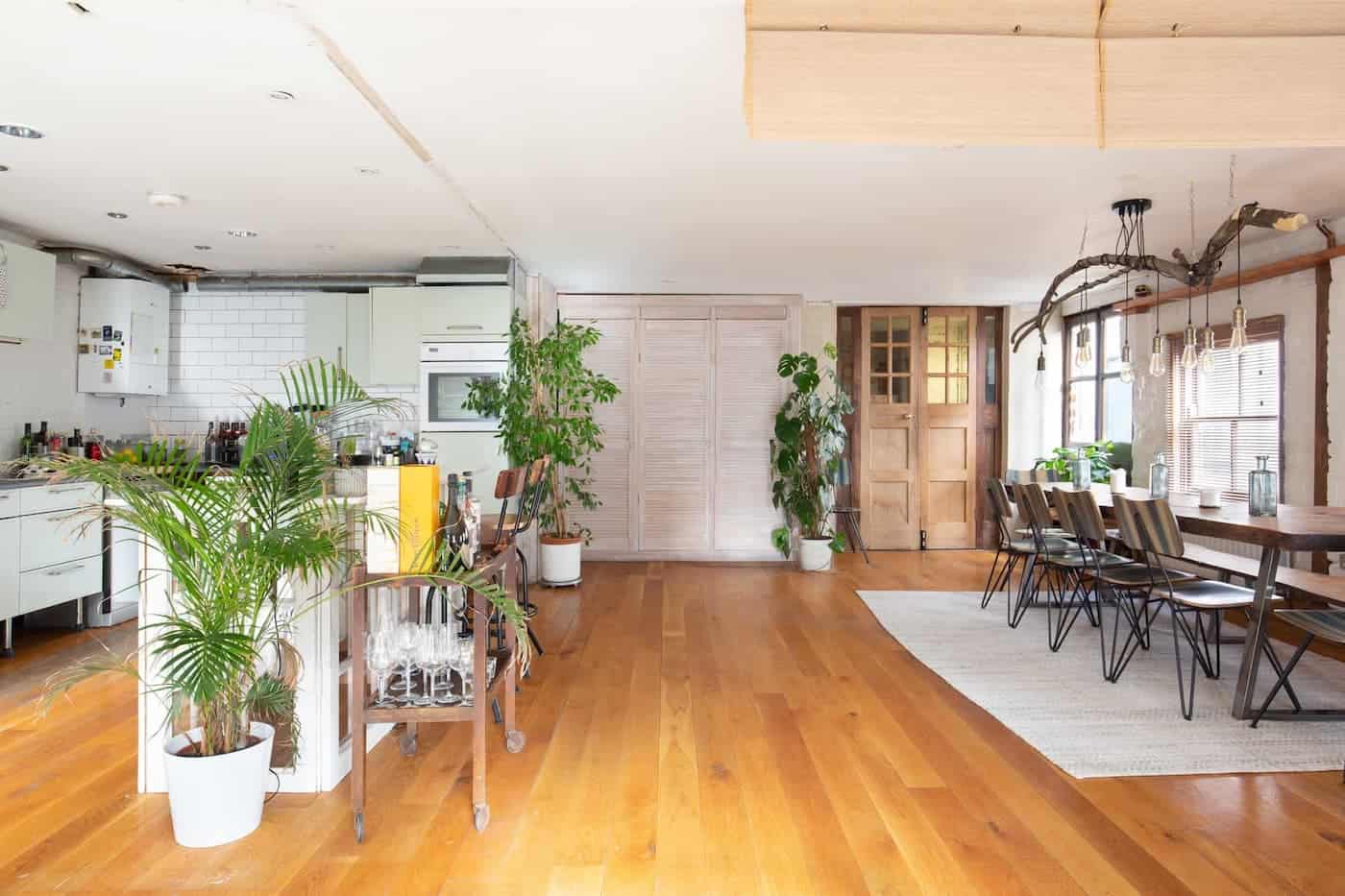 On the first floor is the living accommodation which is one large open plan living room, dining room and kitchen. The space benefits from fantastic natural light, painted brick walls, and sash windows, and has a relaxed boho vibe. On the top floor is the bedroom, bathroom, and a small roof terrace.
School House
Location: East London, E9
A beautiful, minimal, light filled duplex apartment location within a former Victorian school conversion, just minutes from Chatsworth Road. This one bedroom open plan apartment has beautiful living spaces flooded with natural light. The double height ceiling provides a tremendous feeling of space in what is a modest floor plan.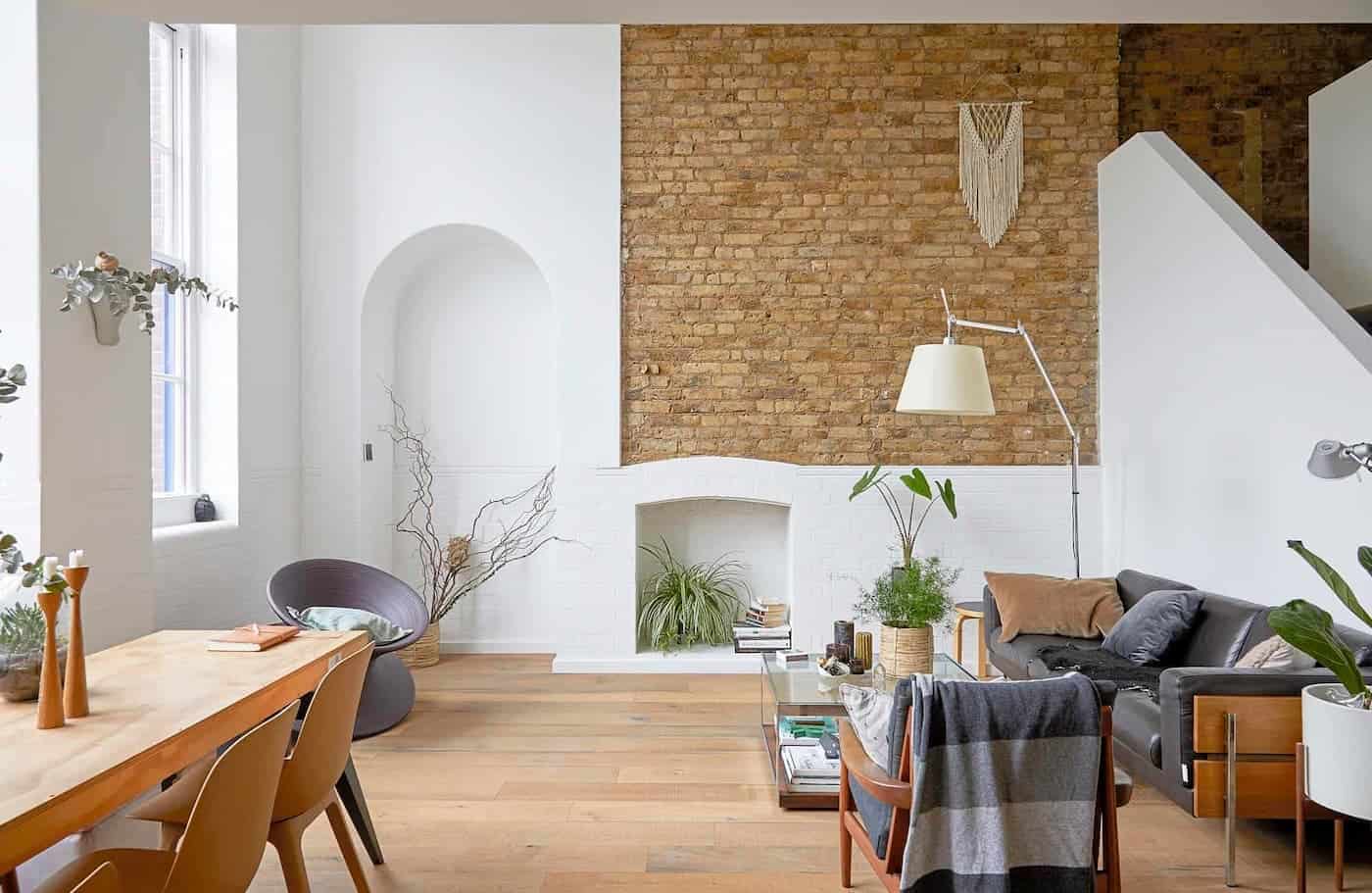 The wide entrance hall has a small shower room off, and a private space for reading. A sawn timber floor leads through to the open plan living space which has a sitting area, dining space, and a kitchen under the mezzanine which provides the bedroom area above. Some light industrial features such as the concrete countertop and the exposed brick wall help provide points of interest, and the furnishings are a mixture of mid-century and Scandinavian inspired pieces.
Victoria
Location: East London, E5
A four storey Victorian townhouse location in London with open plan living spaces and fantastic scale and light.
On the ground floor of this handsome property is the entrance hall, leading to an open plan sitting room, second reception, and dining kitchen which has been created with the addition of an extension at the rear plus a vertical opening into the floor above to create a wonderful double height ceiling.
Thirty Four Studio
Location: East London, E14
Thirty Four Studio is a 1300 sq ft top floor London location home, open plan space with double height ceilings, exposed Victorian brickwork, original crittall windows, wooden beams and a mezzanine level that opens up onto a private outdoor terrace.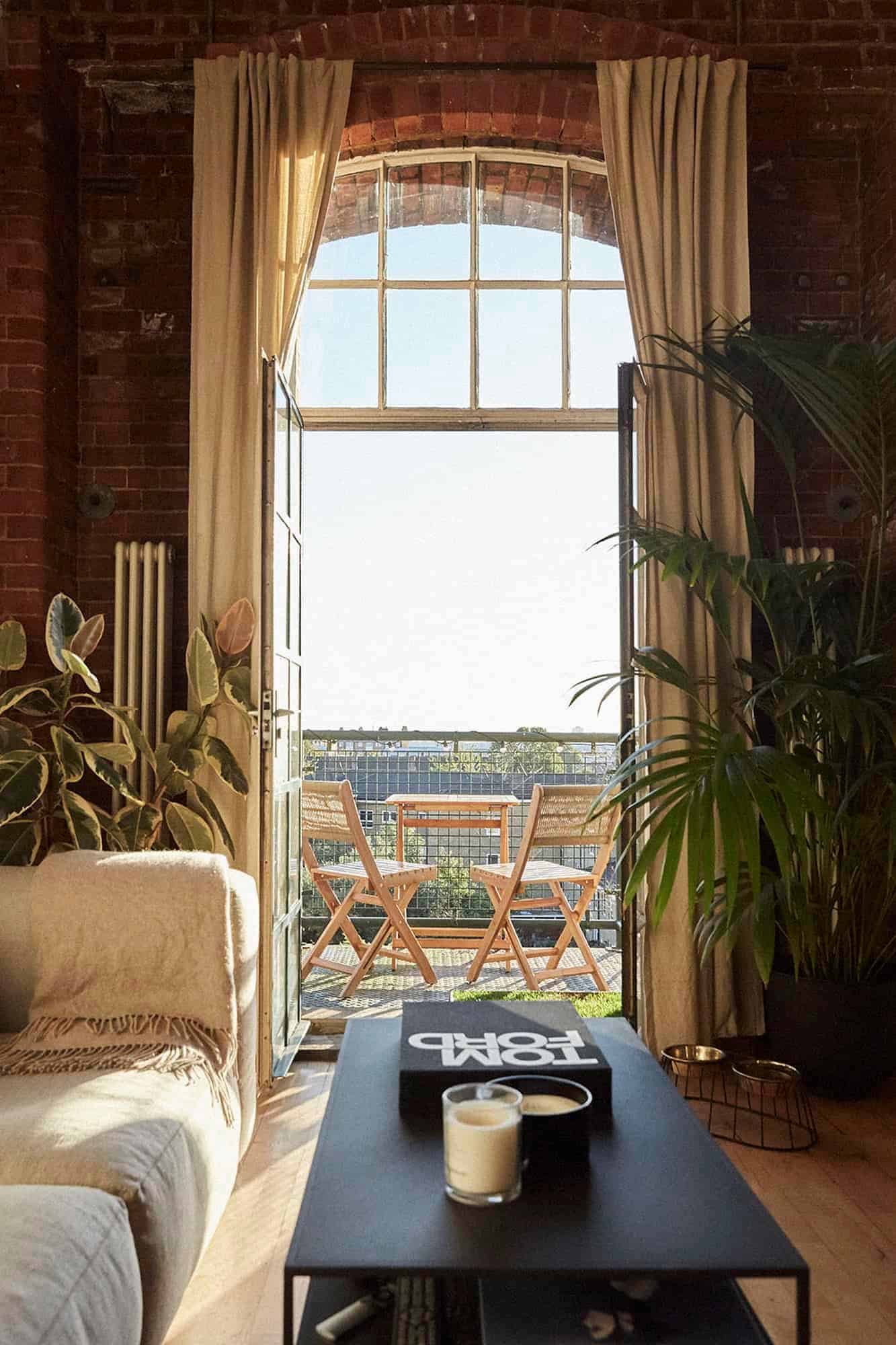 The warehouse converted studio is located in the Bow area of East London. The building is part of Spratt's, once the largest dog biscuit factory in the world.
The Old Laundry
Location: East London, E5
A former Victorian warehouse converted to a residential location property in London, offering open plan living spaces flooded with daylight and retaining a strong industrial theme throughout.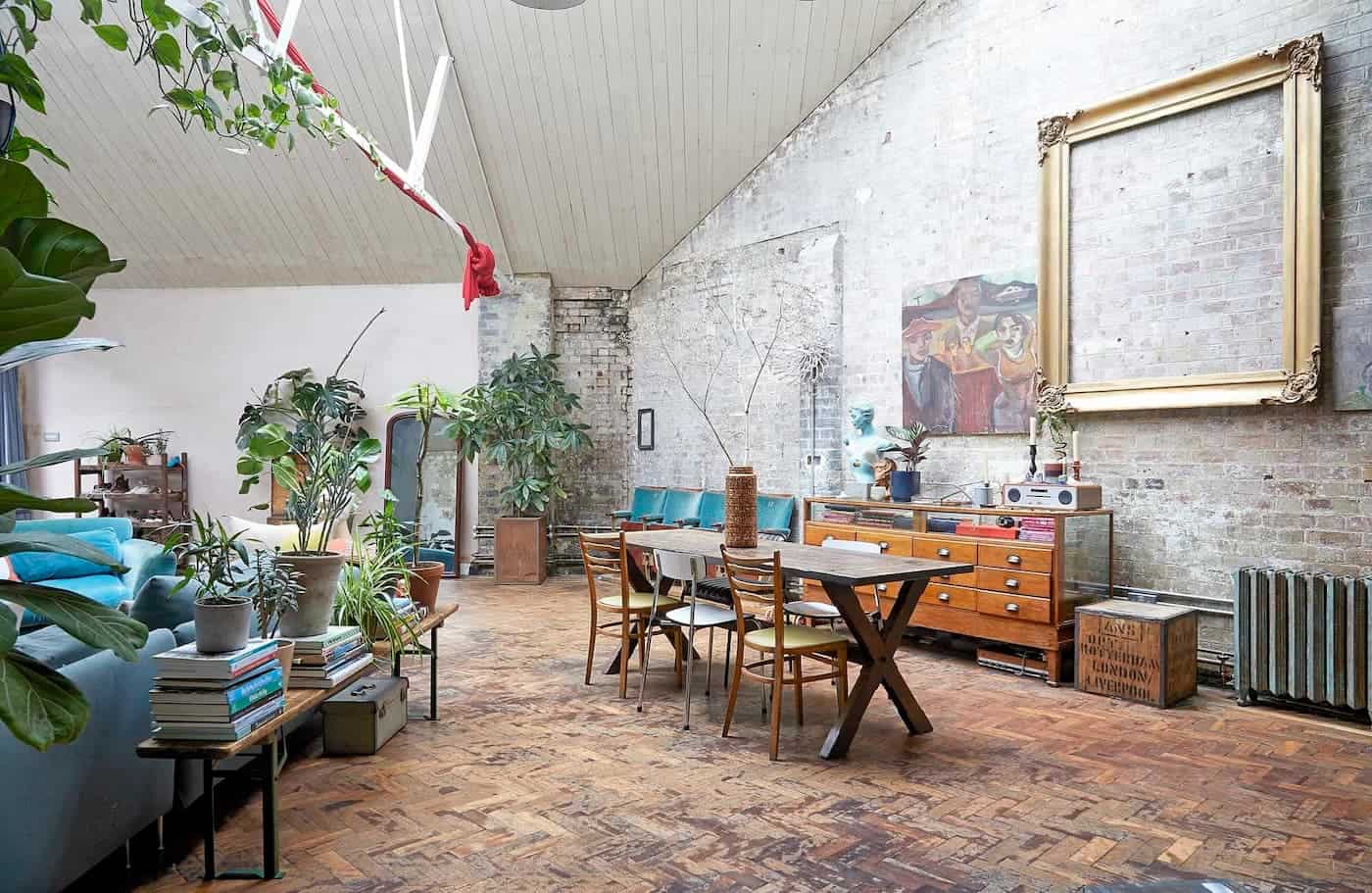 Brimming with quirky props and artefacts and with an abundance of green, this family home offers a unique backdrop for fashion and interiors photoshoots and filming. From the beautiful fireplace, to the soaring ceiling height and natural light, to the original parquet floors, and the iron spiral staircase, the tiki bar, the industrial kitchen, and the entirely wood clad bedroom, this property offers a wealth of useful and interesting features that will bring a photoshoot to life. The main space is also set up with rigging for aerial silks performance.
Related Articles