The Location Guys represent some of the best mid-century location properties across the country.
Mid-century properties in London generally refer to homes, buildings or architecture constructed between the 1930s and 1960s, particularly in the years immediately after the Second World War. These properties are often characterised by their sleek, modernist design, which reflects the optimism and confidence of the post-war era.
Mid-century properties in London can take various forms, from large, detached family homes to apartment blocks and social housing projects. These buildings often feature distinctive materials, such as concrete and steel, and simple, clean lines, emphasising function and efficiency.
Today, mid-century properties in London are often highly sought after, with many people drawn to their unique design and historical significance. However, some mid-century buildings have also faced challenges over the years, particularly as they age and become more difficult to maintain. Despite this, the legacy of mid-century architecture in London continues to influence the contemporary design and urban planning.
We showcase some new mid-century location properties in London available for photo shoots and filming.
Mid-Century London Locations:
Steele
Location: London, E14
A super sleek apartment on the second floor of a former dog biscuit factory. With lift access, wide doorways, fantastic natural light and ceiling height, plus some on-site parking, this property is an ideal photoshoot location.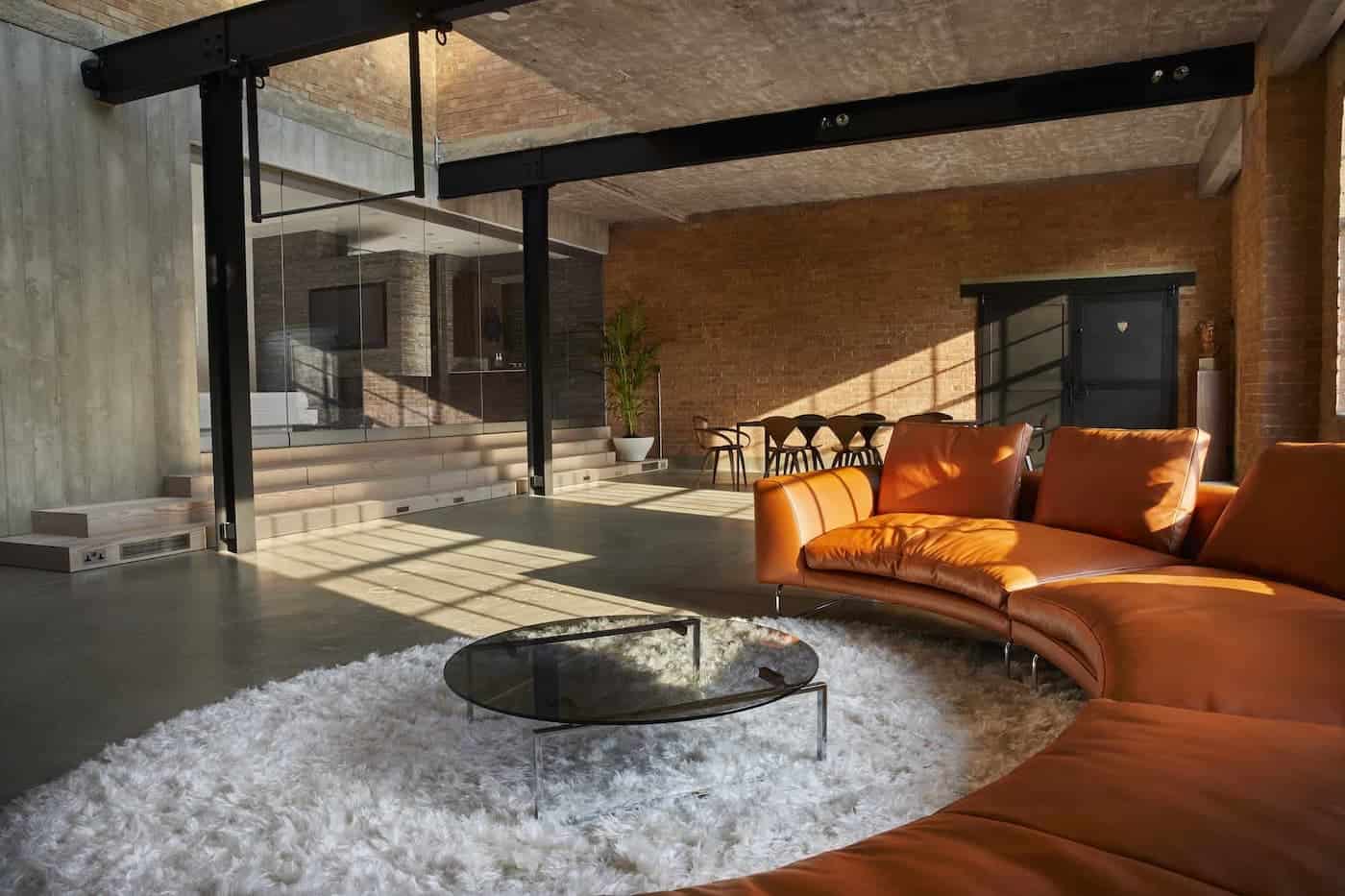 The apartment was subject to a complete renovation by its current owner, who has designed a beautifully minimal space with a definite masculine edge. The industrial features of the former warehouse building are exposed and mixed with sharp edges and clean lines to create an incredibly unique interior.
London Fields
Location: London, E9
An attractive two bedroom duplex location apartment in London forming part of a converted former shoe factory in Hackney. The entrance to the apartment is at first floor level where there is bedroom one and house bathroom. A staircase leads down to the open plan living spaces and second bedroom.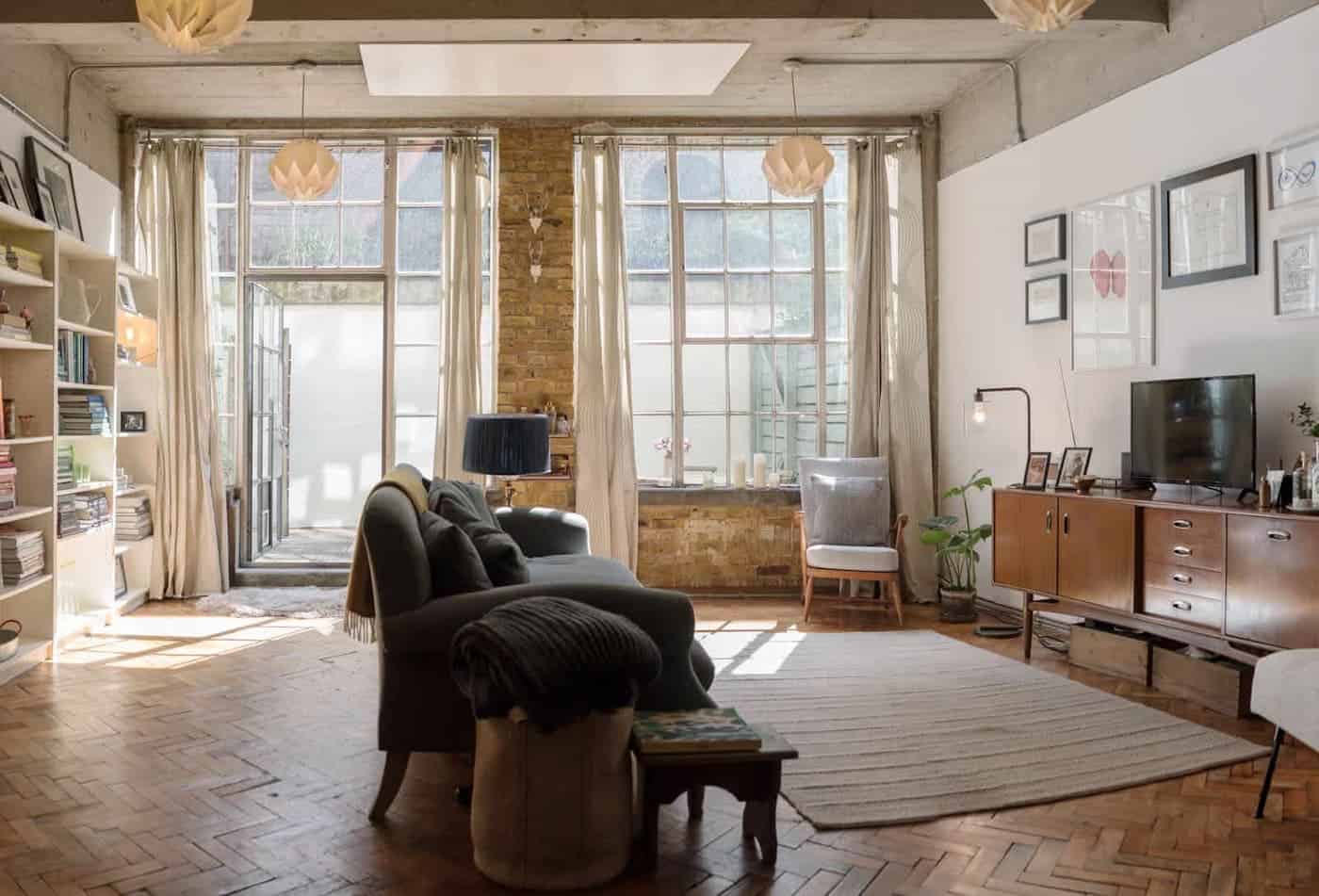 The open plan living, kitchen and dining space has a very high ceiling, and large crittal doors which open out to the rear courtyard garden. The floor is a mixture of concrete and parquet. Fitted shelving to one wall and mid century style furniture.
Pear Tree House
Location: London, SE22
Pear Tree House is a detached, architect designed, contemporary location home centred around a 100 year old Pear tree. The house is built in two volumes and linked by a glass walkway. Internally the ground floor is almost entirely open plan. Vast ceiling heights and generous expanses of glass provide a striking interior with long sight lines through the home, and fantastic natural light throughout the day. Internal walls are boarded concrete and floors polished concrete. The various living areas are cleverly zoned, and the use of different levels adds further interest and clarity of space.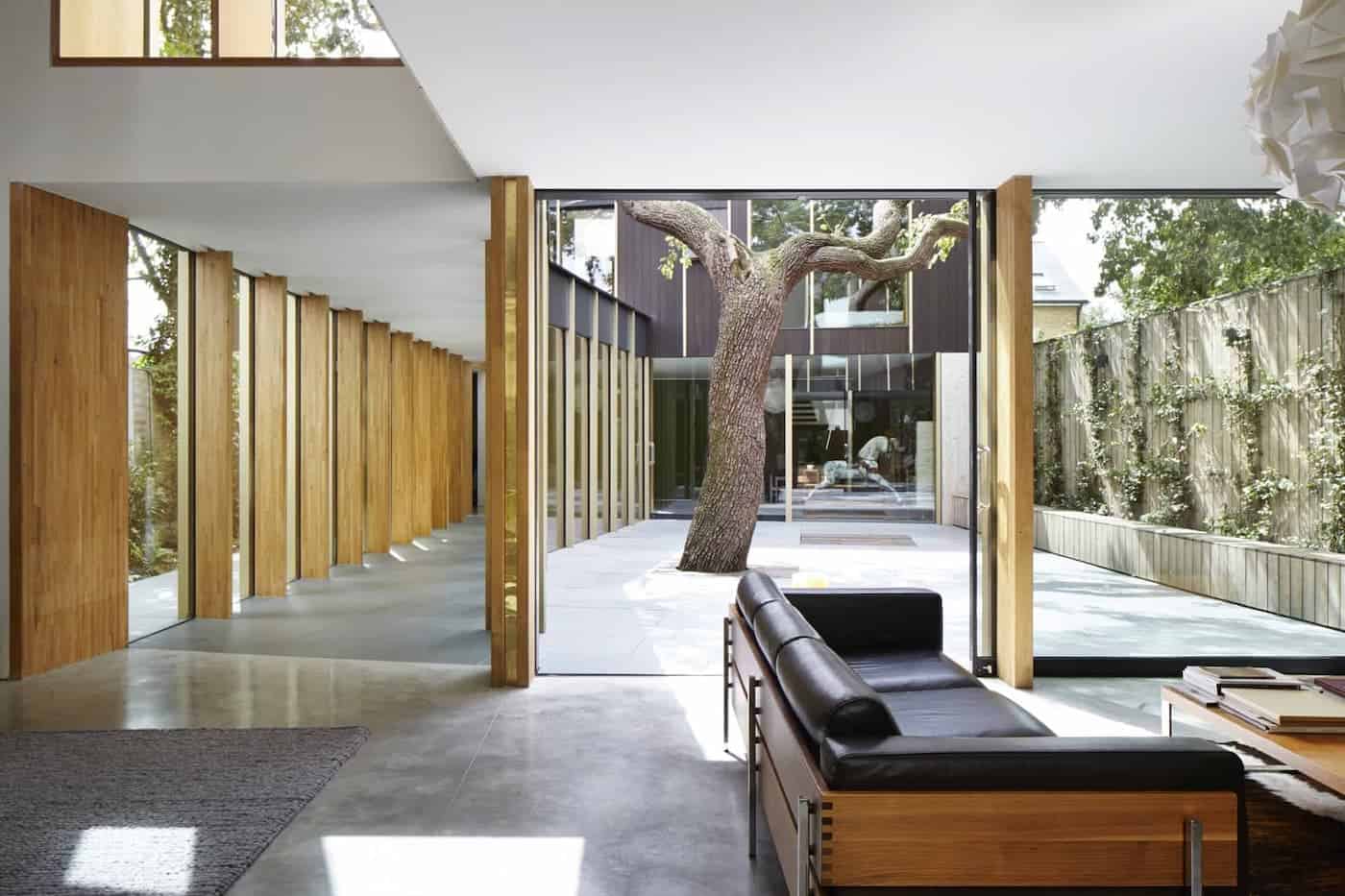 The kitchen leads onto the garden. Through the sliding glass door a slate terrace runs into a larger area of lawn flanked with planted borders and surrounded by mature greenery. The kitchen design is a minimal danish style and boasts a brass countertop island unit. With the change in level a sunken style sitting / reading area has been created.
Phoenix House
Location: London, E17
Showcasing an eclectic mix of design influences from Art Déco, Mid Century, Bauhaus and Victorian, this arresting location property situated in East London offsets the ultimate in timeless design. With the warm toned Acacia parquet flooring throughout the downstairs, wooden panelling and shutters in the lounge, the overall look is rich with character. The front of the property is north facing so ideal for filming and stills. The shutters creating a black out space that can be easily controlled with lighting.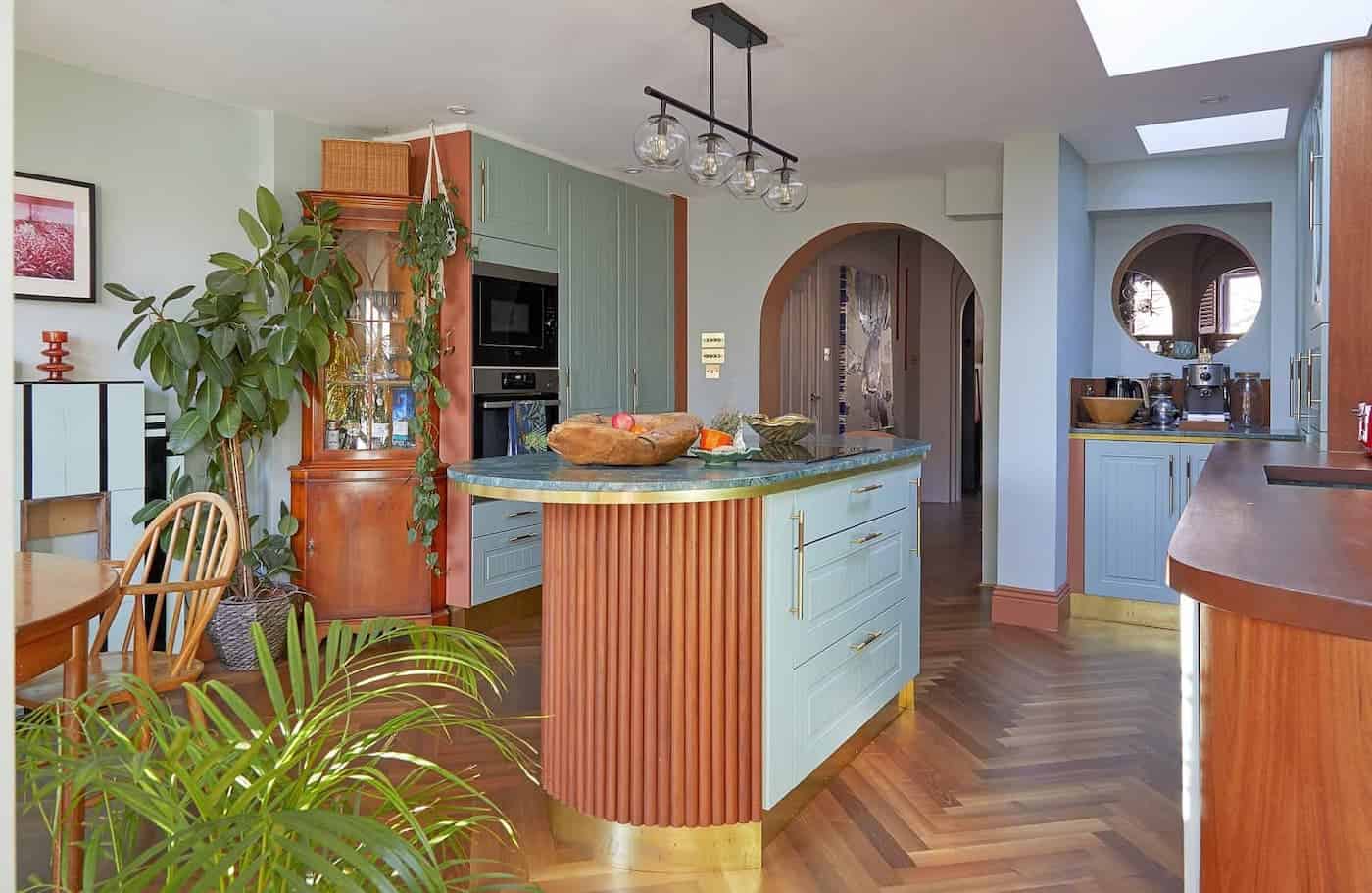 The parquet flooring adds a sophisticated appeal to the space and works beautifully next to the memphis-style arches and statement furniture pieces – providing the perfect mix of old and new. An open plan layout downstairs, array of colours/finishes and wallpaper used within the property makes for a versatile shooting space. Throughout the property there are lots of stylish furniture, rugs, ornaments, lamps, trinkets and plants that can be used for set design.
Maida Vale
Location: London, W9
An elegant contemporary home built behind the facade of a period villa in Maida Vale. This West London location house has light spacious interiors with super finishes and stylish furnishings and artwork. There are 5 bedrooms, 4.5 baths and the accommodation is arranged over 4 floors including a large basement.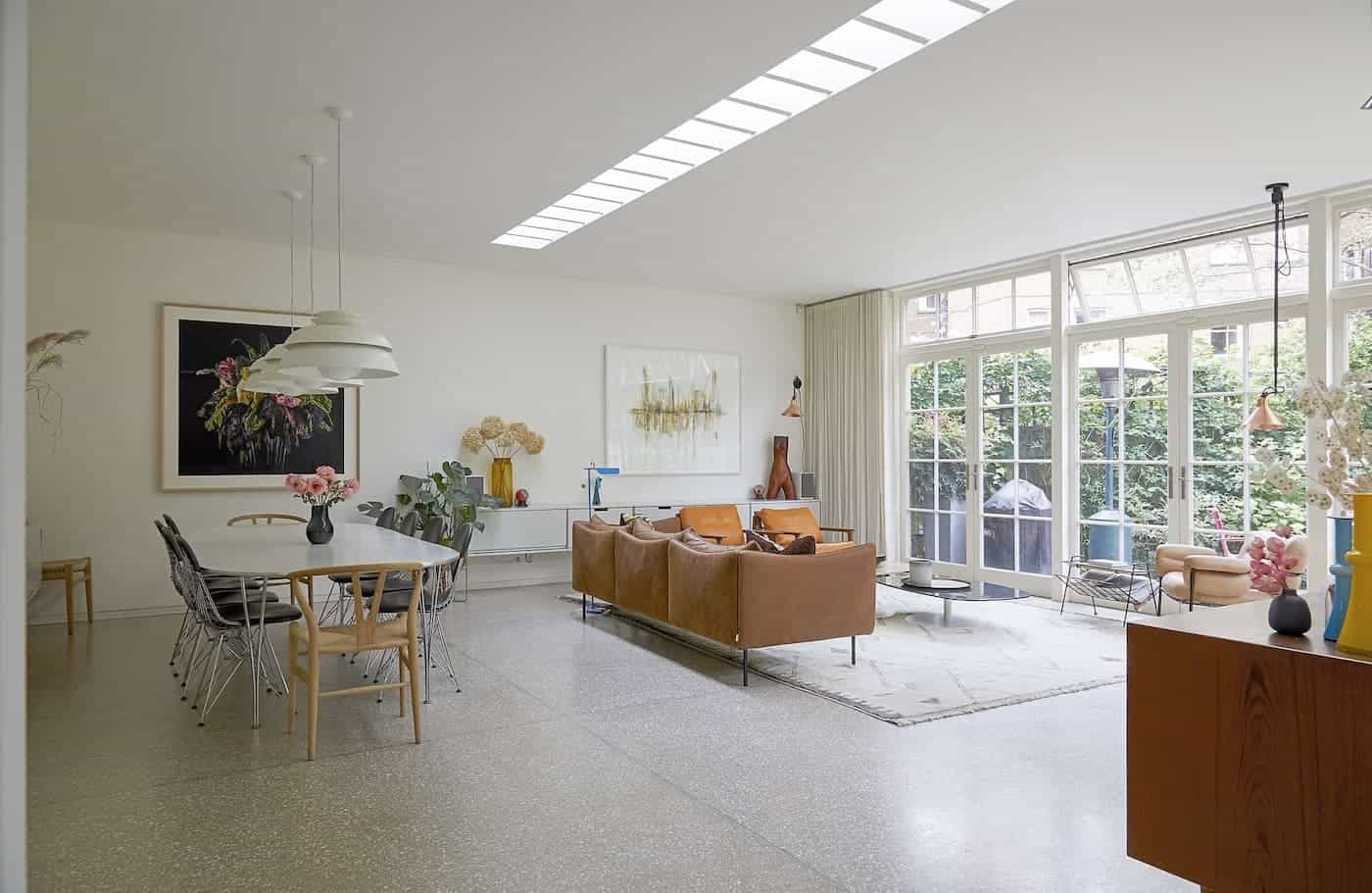 The bright entrance hall features a sculptural staircase and terrazzo flooring. It is open plan to the large living space which occupies the majority of the rear of the house and looks out over the wrap around garden. With both full height and width glazing and a long light well in the ceiling, the room is flooded with natural light.
Citrine
Location: London, E17
The property is a Victorian terraced house in East London boasting colour blocked walls, mid-century furniture and striking art. Black and white tiled floors lead into a large industrial kitchen, featuring an exposed brick wall, yellow rubber flooring and a copper pipe light installation. Crittall doors lead out to the garden.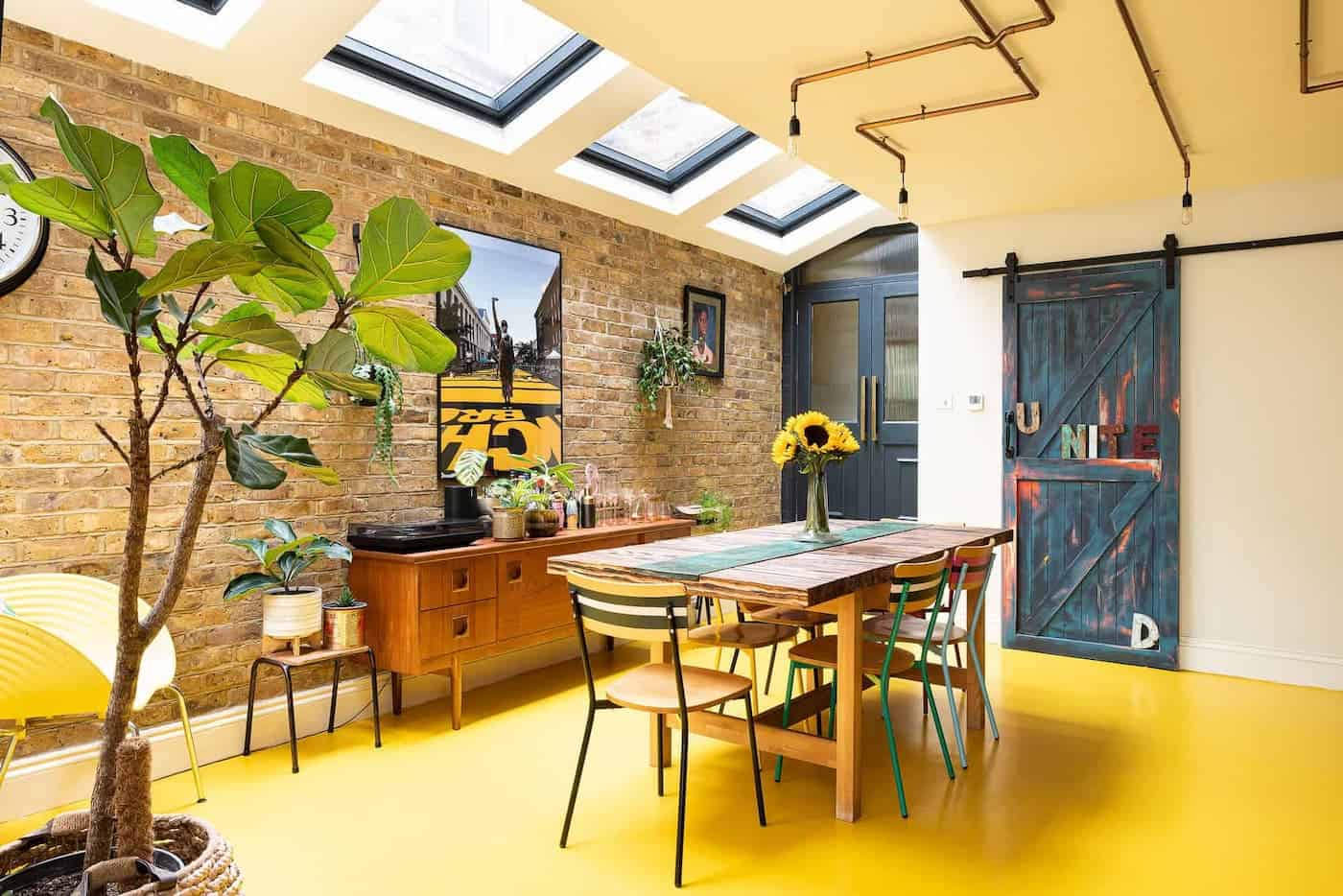 The living room has colour blocked walls, and regal gold coving which decorates the ceiling. The living room doors open up into the open-plan kitchen/dining area. A quirky toilet can also be found on the ground floor. The hallway is playful with art on the walls, and an aubergine polka dot runner lines the stairs leading to the upper floor. This floor has two bedrooms and a 70s inspired olive green bathroom decorated with planters and bamboo.
Hackney Loft
Location: London, E8
A two bedroom first floor apartment location in London Fields, on a quiet street less than 5 minutes from the park. At over 1000 sq ft, the apartment is in a former clothing factory. It has a large bright open plan living room/kitchen area with five tall windows. The ceiling height is approx. 2 metres. There are two bedrooms and two bathrooms.
The apartment is furnished throughout with mid century and contemporary designs, with original pieces from Pierre Paulin, Isamu Noguchi, Giandomenico Belotti, Mueller van Severen, Bruno Rey, Robin Day, Joe Colombo etc
New Cross
Location: London, SE4
Built on the site of a former coach house is this unique, four bedroom, architect designed location property providing just over 1,600 sq ft of internal space over three floors. Internally the house boasts well planned interiors to maximise the appearance of space and light. The design incorporates some light industrial elements with modernist features. Porcelain tiles are underfoot and run the length of the ground floor, and spill out to the terrace at the rear.
The sunken living space has wide plank oak floors which helps bring warmth to the space. Reclaimed brick walls are exposed throughout and large skylights and windows make the most of the natural light. Microcement has been used to create a feature fireplace in the sitting area, and the polished concrete is echoed in the grey quartz countertops in the kitchen.
Related Articles: